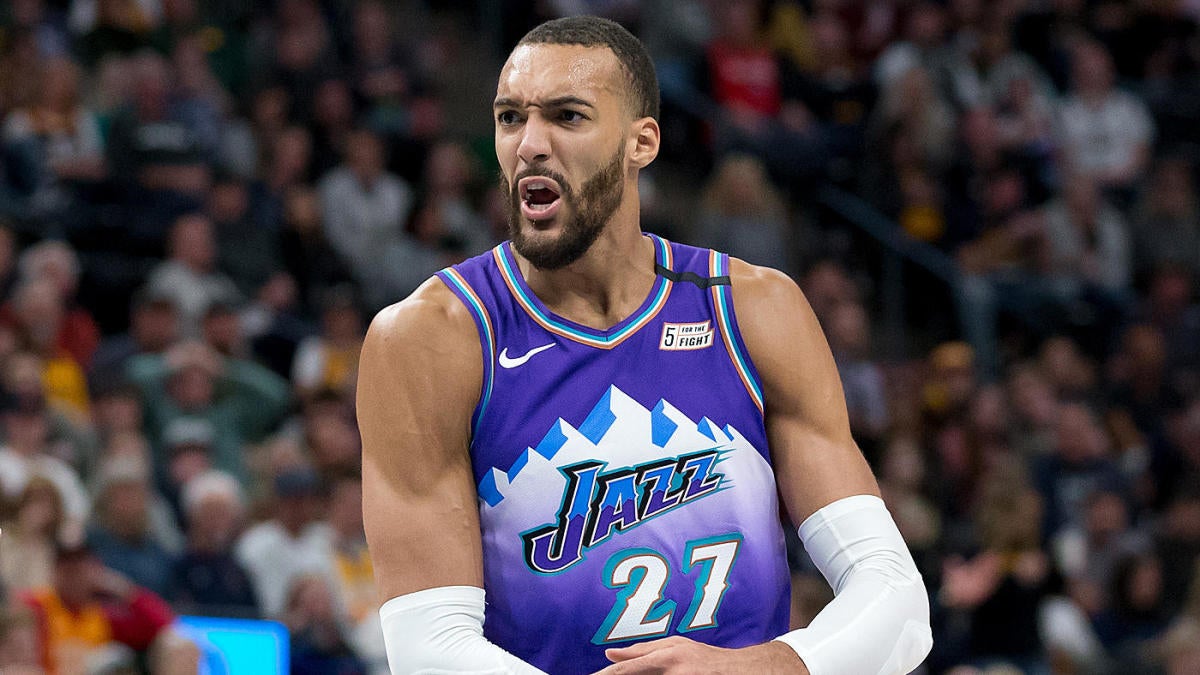 Rudy Gobert just got a big-time bag. 5 years, $205 million. That's the largest contract ever for a big man. Did he deserve it? No! Rudy Gobert is an overappreciated player. He's the fifth best center in the NBA going into the season (behind Jokic, Embiid, KAT, and Bam), and he could fall lower than that this year (DeAndre Ayton is coming for that spot). He's not even the best player on his team. So how did he earn this contract?
I guess the Jazz just felt forced to pay him. After he declined a max extension and demanded the supermax, the Jazz must have went into panic mode. Rudy Gobert isn't a superstar by any extent (he's not even a defensive superstar. His elite interior presence isn't enough to make him a top five defender due to his lack of perimeter defense. He shouldn't have more than one DPOYs), but he is still an All-Star player that you want to keep around. But that doesn't mean he's worth one of the biggest contracts in the NBA. He'll be making the most money in year five of the extension (almost $47 million). He'll be 33 at that time. I highly doubt Rudy will be as good then as he is now, so backloading the contract was even stupider than giving him the deal in the first place.
So, who is worth the supermax? How many players are worth contracts that take up 35% of a team's salary cap? Well, only teams that drafted a player (or traded for a player while they were on their rookie deal) can offer that player a supermax, rewarding loyalty. You also have to have won an MVP in the last three years, or All-NBA/DPOY in the most recent season. Therefore only a certain few players are eligible for a supermax. Here's a list of players (in no particular order) on a supermax (no player is eligible that hasn't recieved one), and my thoughts on if they're worth it or not.
Giannis Antetokounmpo (On a supermax)- Giannis just recently signed his supermax extension with the Bucks, which is also the biggest in NBA history. Is he worth it? Yes. A player who's already won two MVPs and a DPOY at the age of 26 is most definitely worth that type of contract. He's not the best player in the NBA, but he could be in a few years.
Stephen Curry (On)- Top 2 point guard ever and the best in the league right now? Best shooter ever? Only unanimous MVP ever? Obviously he's worth the supermax. It would be disrespectful to Steph if the Warriors didn't pay him, after all he's done for their organization.
James Harden (On)- The NBA's leading scorer for three years straight? One time MVP, and top three in voting four other times? Number one in win shares for the last five years? An offensive genius, and one of the best scorers ever? The Beard is a supermax player. Harden did so much for Houston that he had to get paid. Now, as Harden looks for a trade, the supermax makes it hard to move him.
Damian Lillard (On)- Damian Lillard is a supermax player in my eyes, but he's not an obvious guy like Giannis, Curry, and Harden. Dame has had a great career with Portland, and has been super loyal, so Portland rewarded him with a supermax extension. The reason why I would question Lillard as a supermax player is the winning. Portland has always been competitive, but they haven't made the Finals throughout Lillard's whole career. But Lillard is still a top two point guard, and is deserving of the contract he's on.
Russell Westbrook (On)- I have Russell Westbrook as the 20th best player for 2021 on my top 100 ranking. Is the 20th best player in the NBA worth a supermax? Nope. At the time he got paid, it could be justified, as he was coming off his MVP season. But now, Russell Westbrook his highly overpaid. He's paid like a guy who could be a number one player on a championship team, which he isn't. My opinion is that Russell Westbrook isn't good enough to play the way he does. He's extremely ball dominant. I am sure that the Wizards would rather have Westbrook than Wall at this point, but the Wizards are still in a bad cap situation for a team that will be a bottom playoff seed.
John Wall (On)- John Wall is not worth a supermax contract at this point, and it's quite obvious. He wasn't even really worth it when he got paid. It's not his fault, of course, because you can't blame him for the injuries. It's just unfortunate that he's getting paid this much because he's not worth it.
That's everybody. Not many guys are eligible with all the player movement nowadays. If any player could be offered a supermax at any time, here are some other players I would say are worthy of the big bag:
LeBron James, Kevin Durant, Kawhi Leonard, Anthony Davis, Jimmy Butler, Luka Doncic
Luka likely won't switch teams for a while unless something bad happens in Dallas where he wants out, so he'll be eligible at some point in his career. The other guys I listed won't ever get one because they've switched teams.
In conclusion, you have to be really good to receive a supermax. The requirements help with that a little bit so $200 million isn't just getting thrown at some random All-Star, but they don't really represent what a true supermax player is. A guy has to be truly special to really deserve the supermax. But as the salary cap increases and average contracts do too, expect every eligible player to receive the bag. After all, who doesn't want to make $200+ million dollars to play basketball?