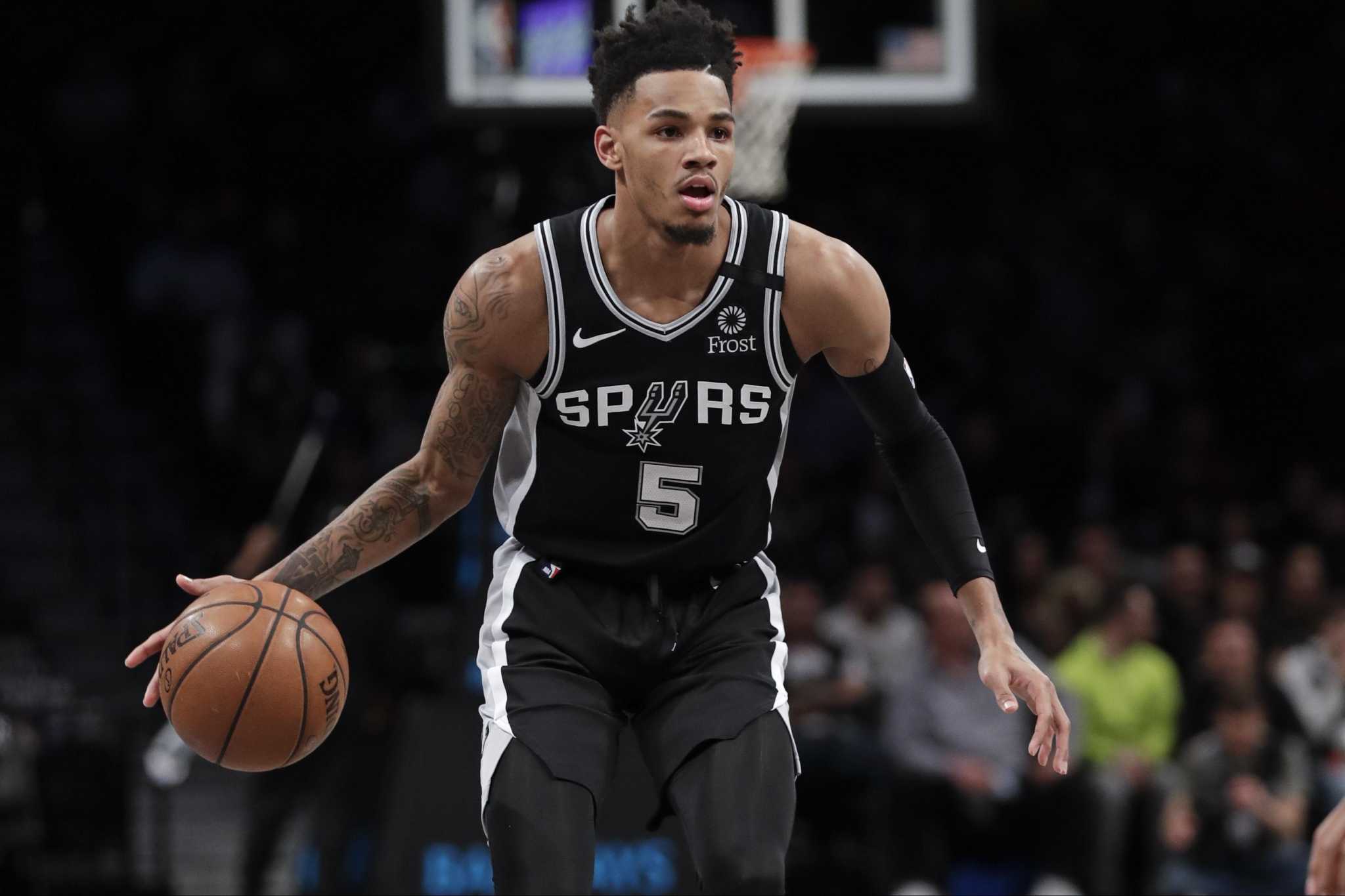 Today, I am becoming the general manager of the San Antonio Spurs. How am I doing this? NBA2K21! Now, I know 2K isn't always super accurate, but it's still the best option for a basketball simulation. I'm using 2K's MyNBA mode and taking over the Spurs.
So how is this gonna work? Well, I'm going to be making realistic moves to set the Spurs in the direction I think they should go in. (Note: I have trade override on, simply because 2K's trade system is iffy sometimes. You often have to throw in a ton of draft picks to get a trade done. Just trust that I'll make realistic trades. You'll get to see them.) I'll be controlling the Spurs for the 2020-21 season and the 2021 offseason. I'll make all the trades, free agent signings, staff signings, and draft choices that I think the Spurs should do to send them in the right direction. (Another note: If I, for example, sign a player in free agency, I'm not saying the Spurs will sign them next year. Obviously. This is all hypothetical.)
What direction am I taking the Spurs in? A youth direction. The Spurs have a great young core. I'll be trading some veterans for picks and younger guys, and I will definently be trading DeMar DeRozan and LaMarcus Aldridge by the trade deadline.
I hope I've explained how this works well enough, so here we go!
Beginning of the 2020-21 Regular Season
Trade #1: Rudy Gay to Brooklyn
Nets get: Rudy Gay
Spurs get: Taurean Prince, 2021 2nd Round pick (via PHX)
Like I already said, I'm going younger. I think Rudy Gay just isn't needed on the Spurs anymore, and would be better for a team trying to contend, like the Nets. Prince is 8 years younger, and is a decent 3&D guy. I also get a second rounder, and that's the main prize of this trade
Now it's time to set the rotation. Keldon Johnson and Derrick White will both be missing time at the beginning of the year, which takes out my starting SG and backup SF.
Starters: Dejounte Murray, Lonnie Walker IV, DeMar DeRozan, LaMarcus Aldridge, Jakob Poeltl
Bench: Patty Mills, Devin Vassell, Tre Jones, Trey Lyles, Taurean Prince
I don't think Jakob Poeltl is the long-term starting center for the Spurs, so I dabbled with starting LA at center, but I don't have any young power forwards I'd rather start. Therefore Poeltl gets the nod. Dejounte Murray will be the guy throughout this simulation, and he's getting heavy minutes.
December
In our first 14 games through the month of December, we went 11-3. That's really good! Derrick White and Keldon Johnson returned early, and I slid them into the rotation. I also singed Noah Vonleh to a 1-year deal because we had an open roster spot. The rotation now looks like this.
Starters: Dejounte Murray, Derrick White, DeMar DeRozan, LaMarcus Aldridge, Jakob Poeltl
Bench: Patty Mills, Devin Vassell, Lonnie Walker IV, Keldon Johnson, Noah Vonleh
(Note: After this first month, I turned of injuries out of frustration. Though injuries are a real thing, I didn't want that to mess with my season, so I just turned them off. Like it would suck if Dejounte tore his ACL, and then the record didn't accurately represent the success I think the team would have based on the moves I'm making. I hope you understand.)
January
Now we're 17-10. We calmed down a little. Dejounte is having a really good start to the season, averaging 14 PPG, 7 RPG, and 6 APG. DeMar is probably a big reason we're winning, as he's averaging 24 PPG, 5 RPG, and 5 APG. I would keep him if I though the Spurs were going in a direction where he would be needed. Derrick White's been a little underwhelming (10 PPG, 5 APG), but I think he'll step it up.
Contract Extension Deadline
Only two eligible players were willing to sign an extension: DeMar and Patty. I gave Patty a two year minimum extension, but not because I want to keep him around. I also gave DeMar a two year extension worth $32 million ($16 million a year). He would have less trade value if I didn't. After all, who wants to make a big trade for a star and have them leave after the season?
Trade #2: Patty Mills to OKC
Thunder get: Patty Mills, Drew Eubanks
Spurs get: Ty Jerome, Darius Miller, 2021 2nd Round pick (via MIN)
I was originally going to keep Patty around for the rest of the season and let him walk after, but then when he wanted an extension I decided to trade him. Ty Jerome (for some reason) only played one minute for OKC all year, so I brought him in to get some playing time. Darius Miller won't play. Drew Eubanks wasn't gonna play, so I don't mind trading him. The second rounder might be something.
After the trade, now the rotation looks like this:
Starters: Dejounte Murray, Derrick White, DeMar DeRozan, LaMarcus Aldridge, Jakob Poeltl
Bench: Lonnie Walker IV, Devin Vassell, Ty Jerome, Keldon Johnson, Noah Vonleh
Trade Deadline
DeMar just made an All-Star team averaging 22/5/5. That's awesome, but doesn't change his fate.
Trade #3: DeMar to Orlando
Magic get: DeMar DeRozan, Noah Vonleh
Spurs get: Evan Fournier, Al-Farouq Aminu, 2022 unprotected 1st Round pick, 2021 2nd round pick
I didn't get a young player in return for DeMar (he was making too much money), but I still got a good haul. The 2022 first rounder is a great asset. Evan Fournier is on an expiring deal, so he's just a rental. Aminu is a salary filler, Vonleh is a roster filler. I'm going to buy out Aminu after this trade.
I also explored a trade sending DeMar to Memphis, but this was the better deal.
Trade #4: LaMarcus to Detroit
Pistons get: LaMarcus Aldridge
Spurs get: Jerami Grant
This trade also involves a 2025 first round pick swap. Just like with DeMar, LaMarcus is on a big deal making him hard to move. I'm doing this because I think Jerami Grant is a good player who can still grow, and he will be a great fit in San Antonio. The Pistons would do this because they suck and need a player who can help them stay relevant.
I looked to send LA back to Portland, but they didn't have the players making enough money to make a (realistic) trade happen.
Trade #5: Trey Lyles to Atlanta
Hawks get: Trey Lyles
Spurs get: Solomon Hill, 2021 2nd round pick (via MIA)
This trade is simply a salary dump of two million dollars. Trey wasn't getting many minutes, and I'd rather have Solomon Hill to mentor some young guys than a dude making $5 million to barely play.
Signing: Jordan Bell
After the DeMar trade, I bought out Al-Farouq Aminu to clear up a roster spot. I signed Jordan Bell to a two year, $4 million deal with a team option on the second year.
All-Star Break
At the All-Star break, the San Antonio Spurs are 29-26. That's good for seventh in the West. I expect our record to go down a little. After all, I just made a few big trades that will shake up team chemisty, and now our team is younger without an All-Star to carry us in big games.
Dejounte is playing great, averaging 14/7/6. Derrick White's numbers have improved, and he's averaging 12/2/4. Devin Vassell was averaging 9/3/1 off the bench, and now that he's starting his numbers should get better.
Going into the second half of the season, the rotation looks like this:
Starters: Dejounte Murray, Derrick White, Devin Vassell, Jerami Grant, Jakob Poeltl
Bench: Evan Fournier, Keldon Johnson, Lonnie Walker IV, Jordan Bell, Taurean Prince
Prince is getting his first real playing time of the season. Vassell moves into the starting lineup. Evan Fournier is coming off the bench because I want to prioritze my young guys.
Second Half of the Season/NBA Awards
The Spurs finished 36-46, which is good for 14th in the West. I knew our record would decline. The guys looked great though. Here's some stats:
E. Fournier: 17 PPG/1 RPG/3 APG
D. Murray: 16/7/6
D. White: 14/3/4
J. Grant: 13/3/1
D. Vassell: 9/4/2
L. Walker IV: 8/3/1
K. Johnson: 8/4/1
T. Jerome: 6/1/2
T. Prince: 6/3/1
J. Bell: 5/5/1
J. Poeltl: 5/8/2
I am super proud of Derrick White and Dejounte. I knew White's numbers would get better (it's a good thing they did, considering the extension he just got). Dejounte's numbers are also great all-around. How he didn't make an All-Defensive team, I don't know. The other young guys looked good. I am disappointed in Jakob Poeltl. He started every game this year and his numbers don't reflect that. I'll probably look to trade him.
2021 Offseason
We have the 7th, 37th, 38th, 45th, 46th, and 53rd picks in the 2021 draft. That's a haul of second rounders. I'm not going to keep all of them.
Trade #6: Picks to Brooklyn
Nets get: 37th pick, 45th pick (via MIN), 53rd pick (via MIA), 2024 1st round pick unprotected
Spurs get: Nicolas Claxton
I don't need the seconds, and the first round pick is a small price to pay for Claxton. Claxton didn't play at all during the simulation, but I think he can be a good young backup center going forward.
Freaking Gregg Popovich retired! I also have to fill out our assistant coach positions.
Staff Signing: Mike Brown
I signed Mike Brown, who was an assistant for the Warriors, to be the next coach of the Spurs. I did not expect Gregg to retire. Brown should be decent.
Draft Pick: Evan Mobley
(Note: I downloaded a 2021 draft class that someone made. It seems to be pretty accurate. I don't know too much about college basketball, so I don't know for sure. Just roll with who I take.)
With the 7th pick in the 2021 NBA draft, the San Antonio Spurs select Evan Mobley from USC! Mobley is the best big available at my position, and I'm taking him. He fills a team need, and I've heard great things about him.
I didn't sign either of my second round picks because no one caught my eye at that point.
Team Options
I'm bringing back Keldon Johnson, Lonnie Walker, Luka Samanic, and Ty Jerome. All of them are solid young guys. Since I drafted Evan Mobley, I'm letting Jordan Bell walk.
Signing: Bruce Brown
I'm bringing in Bruce Brown on a 3-year, $16 million deal. Bruce Brown is a great combo guard who can shoot, finish, pass, and defend. He'll be a great guy to play in San Antonio.
Signing: Terrance Ferguson
Terrance Ferguson is young forward who already has starter experience for the Thunder. He won't start here, that's for sure, but he'll be a solid young guy off the bench who could still become something.
Beginning of the 2021-22 regular season
So that's that! My tenure as the GM of the San Antonio Spurs is over. Lets take a look at the roster.
PG: Dejounte Murray, Tre Jones, Ty Jerome
SG: Derrick White, Lonnie Walker IV, Bruce Brown
SF: Devin Vassell, Keldon Johnson, Terrance Ferguson
PF: Jerami Grant, Luka Samanic, Taurean Prince
C: Evan Mobley, Jakob Poeltl, Nicolas Claxton
I think I sent the Spurs in a great direction. San Antonio's player development has been great, and a roster like this could be a playoff team in a few years because of that.
So, let me know what you think about the roster I set up! Do you agree that the Spurs should go young, or do you think they should keep DeMar and LA and try to compete? Also, let me know if I should make any changes to the way I did this (for future GM tenures). Thanks for reading!