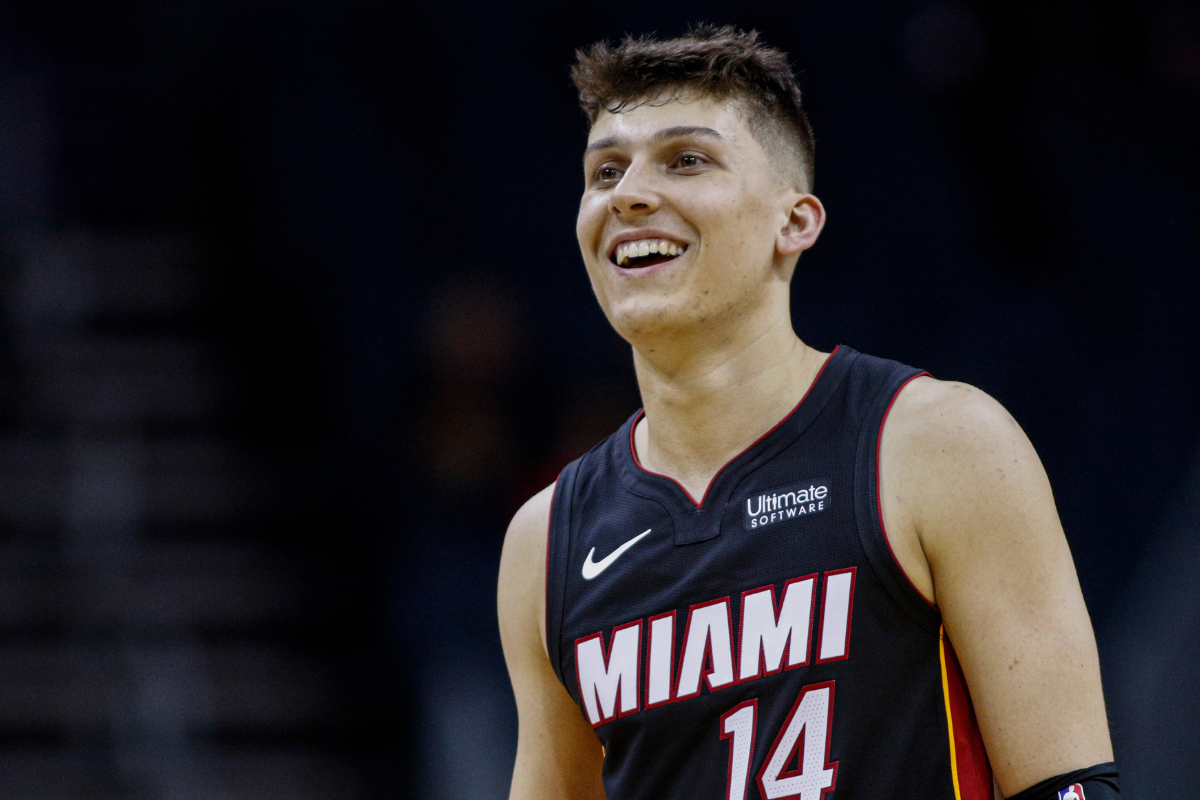 Recently, I've seen some stuff come out about Tyler Herro. Apparently, the Heat organization is worried about his stardom getting to his head, which is leading to a decrease in his work ethic. This may legitimately be the case.
Tyler has that cocky demeanor on the court that makes him easy to dislike (unless you're a Heat fan. Also, check out this picture). Because he's like that, getting stardom like he has is not a good thing, especially because it's so early in his career. He had a nice 2020 playoffs, and everybody started thinking he's next up. That's not the case though, because he's not even that good this year.
For one, he's been pretty inconsistent this year, as well as inefficient. He's shooting the same amount of threes per game as last year (5), but his percentage has gone from 39% to 34% (league average is like 36%). He takes two more field goals per game this year as last season, but his FG% is exactly the same (meaning he's just missing two more shots every game than last year). Tyler isn't a good defender. One positive is that he's gathering one rebound and one assist more per game than he was in 2020, but considering he plays more minutes this year that's not exactly some crazy improvement.
Basically, Tyler hasn't improved whatsoever from 2020 (he's statistically gotten worse). So far in his career, he's just some dude who's only accomplishment was his bubble performance (which is only meaningful because of his team's success. Basically everybody was better in the bubble. Heck, even Timothe Luwawu-Cabarrot averaged 16 points per game in the 2020 playoffs).
But, despite this lack of improvement, Tyler is now a very popular player in the NBA world. He even has a Jack Harlow song named after him (the song does go hard). His name has acquired value. People were extremely high on him for months after the bubble (and still are). I think he's overhyped/overrated now. Here's a list of some young guards I think are better than him at the moment (I'm not including obvious dudes).
Donte Divincenzo (Far and away too. Trust me. There's no bias here.)
Dejounte Murray (Also not close at all. I guess I lied about including obvious guys.)
Tyrese Haliburton
Lonzo Ball
Darius Garland
Luguentz Dort
Gary Trent Jr.
(I'm gonna be annoying real quick and say that if you disagree with that list you're wrong. The only one that would even be worth debating is Lu Dort.)
The big value to Tyler is his potential. He has qualities that an All-Star needs (including the ability to create a shot, the ability to close a game, the killer instinct, the name value). The issue is that his potential will take a significant hit if he loses his work ethic. I believe the Heat organization, too. There's definitely something like what they said happening to Tyler right now. There's really not another valid explanation for his lack of improvement. If he's supposed to be so good that the Heat wouldn't trade him for Bradley Beal or James Harden, then he seriously better be that good.
He's not.
The Heat as a whole aren't as good as they were in the bubble, not just Tyler. That's why I think they should've pulled off a trade for somebody better than Victor Oladipo. Jimmy Butler is the type of guy who can lead a team deep into the playoffs, and he deserves a shot to do so. But the Heat holding on to Tyler isn't helping that. The Heat with Bradley Beal could be the fourth or fifth seed in an underwhelming 2021 Eastern Conference, and the Heat with James Harden are a serious Finals contender.
In conclusion, Tyler Herro's career isn't in a good place right now. I'm not saying he's a bad player, by the way. I think he's good. But good is it. Not really good, not great, and definitely not the guy who should be holding up a James Harden trade. If the Heat are really fearful of his work ethic, then something has to be done or Tyler will end up being a one season wonder (that's a ha-ha funny right there. 'Cause his nickname is Boy Wonder. Yeah. Hilarious).
This has been one of those articles where I just sit down and speak (or write, I guess) my mind. I was planning to also talk about other players who have had their careers affected by generating too much hype, as well as the general negative effect of overhyping, but then I wrote too much about Tyler and now my plans have changed. Let me know if you want an article like that in the future. Thanks for reading!
(I'm gonna emphasize something one last time: Donte Divincenzo>>>Tyler Herro.)