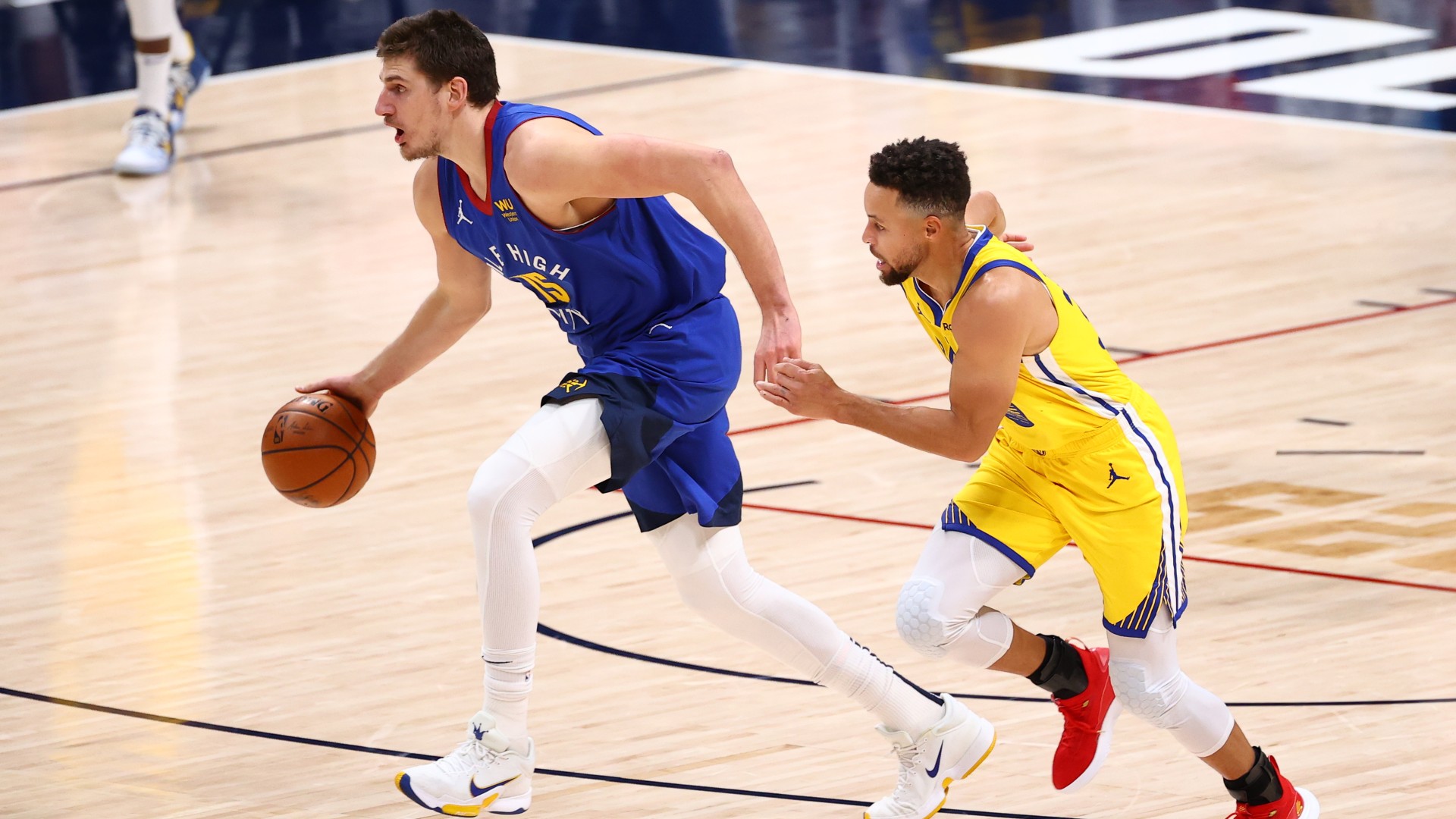 The NBA regular season has wrapped up. For me, it was a great season. I enjoyed watching games this year. The one bad thing for me was all the injuries. So many stars missed time this year. Hopefully next year everybody stays healthy.
Because the regular season is over, I can now give you my picks for the regular season awards. I'll give my three finalists, and then my official pick. Let's get into it.
Coach of the Year
Finalist: Tom Thibodeau
The Knicks had their best season in a long time. They're the four seed, and have a legitimate chance to beat the Hawks in round one. Coach Thibodeau has got to get some credit for that. Since 2015, the Knicks have had five different coaches (Thibs is the sixth). Coach Tibodeau will probably stay for a while. His biggest impact on this team was on the defensive end, where the Knicks were really good this year.
Finalist: Gregg Popovich
I have to give Pop this nomination. The Spurs had zero expectations before this year, and everybody thought they would be bad. Now they're in the play-in, where I think they have a real chance of winning at least the game against Memphis. Coach Pop led a team with one former All-Star (DeMar), some veterans, and a bunch of young players to that play-in spot. Earlier in the season, San Antonio had a top ten record in the league. He is one of the greatest coaches ever.
Finalist: Quin Snyder
Best record in the NBA. Some of the best ball movement I've watched this year. Obviously great defense. The Jazz had a great regular season, led by Quin Snyder. He's probably a lot of people's favorite for this award.
2020-21 NBA Coach of the Year: Tom Thibodeau
Sixth Man of the Year
Finalist: Enes Kanter
To be eligible for the 6MOY award, you need to have come off the bench in more games than you started. Enes Kanter started 35 games and came off the bench in 37, so he's technically eligible. Kanter was just a double-double monster this year. He averaged 11 points and 11 rebounds, including an insane 4 offensive rebounds per game. Kanter had a big impact off the bench in his return to Portland.
Finalist: Jordan Clarkson
This is a pretty obvious one. He's the favorite for a lot of people. Although he was somewhat inefficient (35% from three, but considering he shot 8 a game that percentage isn't as bad), he was still a key player for the Jazz. He has the numbers and he has the team success. Everybody should have Jordan in their top three for this award.
Finalist: Derrick Rose
In my preseason award prediction article, I had Derrick Rose in 5th for this award. But I said if he got traded to a team better than the Pistons, he could finish top three. That's exactly what happened. Derrick Rose got traded to the New York Knicks, where he made a big impact. He shot the ball efficiently (41% from three in 35 games with the Knicks, 39% overall this year). He was the perfect veteran addition for the Knicks this year.
2020-21 NBA Sixth Man of the Year: Jordan Clarkson
Most Improved Player
(I need to give some honorable mentions: Christian Wood, Kyle Anderson, Darius Garland, Jerami Grant, and Shai Gilgeous-Alexander.)
Finalist: Chris Boucher
A few of the other players I had in consideration for this award are better than Chris Boucher. But the name of the award is Most Improved Player, and Chris improved a ton. He improved in almost every statistical category. He's a great shot blocker and can stretch the floor. He's become a legitimate starting-caliber 3-and-D center this year.
Finalist: R.J. Barrett
Not enough people are talking about R.J. Barrett in the MIP race. He had an inconsistent (and inefficient) rookie season that resulted in him missing out on an All-Rookie nod. This year, he's the second best player on a playoff team. He's gotten a lot more efficient (40% to 44% from the field, 32% to 40% from three, 61% to 75% from the free throw line). He's become a solid defender. R.J. definitely has All-Star potential, and he took a large jump towards that this year.
Finalist: Julius Randle
I'm gonna be honest. There are a lot of players who deserve to be in contention for this award, but there's basically only one choice for the winner. And that's this man, Julius Randle. He was a ball-stopping forward who could average 20 and have no impact for his whole career. This year, he's an All-NBA caliber player who led a team to the playoffs. He went from a bad shooter to a great one. He's become a playmaker, making him a guy who can grab a triple double any night. If it's not clear, Julius Randle is the Most Improved Player this year.
2020-21 Most Improved Player: Julius Randle
Defensive Player of the Year
Finalist: Rudy Gobert
Rudy Gobert's advanced numbers are always gonna be elite. He's set all-time records for plenty of stats. Rudy Gobert is always going to have an argument for DPOY, and this year is no different. He's actually statistically better on defense this year than his two DPOY seasons. He is the premiere rim protector in the league.
Finalist: Ben Simmons
Ben Simmons guards 1-5. He's incredibly versatile on defense. He steals the ball at a high level. He's guarded (and clamped) some of the league's best this year, including Giannis Antetokunmpo, James Harden, Luka Doncic, Damian Lillard, and LeBron James. Rudy Gobert could never guard some of the league's best guards. Ben Simmons could never defend the rim like Rudy Gobert can. Ben and Rudy represent two kinds of defense in the NBA, which makes this a hard decision.
Finalist: Bam Adebayo
Bam is another versatile defender. He's a great rim protector. He's not a perimeter lockdown like Ben, but he is a very switchable player. Steph Curry shot 20% when guarded by Bam this year. LeBron shot 25%. Kyrie Irving shot 29%. Bam will probably when DPOY at least once in his career.
2020-21 NBA Defensive Player of the Year: Ben Simmons
(I'm really a fan of Ben's versatility. There's never been anybody like Benny. He's a true unicorn.)
Rookie of the Year
Finalist: Tyrese Haliburton
Although Tyrese was a lottery pick, I think he's one of the steals of the 2020 draft. He could have gone as high as 6th overall to the Atlanta Hawks. The Kings picked up a great player who will be able to play alongside De'Aaron Fox in the future. Despite having a very interesting jumper, Tyrese was an efficient shooter in his rookie season. He's also a solid playmaker. He's a combo guard with a great future in the NBA.
Finalist: Anthony Edwards
Anthony Edwards is a national treasure. This man is hilarious. He's also great on the court. Although his efficiency isn't good quite yet, that will come around. Ant is a straight up bucket. He had some crazy dunks this year. He's a decent defender, but he can develop further on that end. Ant had a crazy inefficient start to this season, but that turned around after the All-Star break. He really made this award a tough choice while LaMelo was injured.
Finalist: LaMelo Ball
LaMelo is definitely a great player already in his NBA career. He's an excellent playmaker (and I mean that. I'm not using excellent just for word diversity purposes). He still needs to become a more consistent scorer, but that will happen soon. He's even a pretty good defender. Plus, LaMelo's biggest impact this year isn't statistical. It's that he brought a struggling Hornets to the playoffs (the play-in) in his first year there. Don't get me wrong, Terry Rozier and Gordon Hayward were better than him this year. But if Golden State took LaMelo and Charlotte ended up with James Wiseman, they would not be in the playoffs. Picking this award was a tough choice.
2020-21 NBA Rookie of the Year: LaMelo Ball
Most Valuable Player
(I need to give honorable mentions again. Shoutout to Giannis, Chris Paul, Luka Doncic, and Mike James.)
Finalist: Joel Embiid
Embiid was definitely the favorite earlier in the season. Philly was really good, and he was playing the best basketball of his career. This was the best season he's ever had. He's scored like this before, but never this efficiently. He's a great mid-range shooter (50% from that range), and a solid three-point shooter as well (37% on three attempts per game). Then, Joel got injured. While he was out, Ben Simmons and Tobias Harris were able to keep the team as the one seed (in fact, Simmons missed time too and Tobias was the guy stepping up and keeping them going). The fact that his team was able to keep winning without him hurts his MVP campaign.
Regardless, it was an elite season for Joel, and if he stays healthy next year I think that he can win the award.
Finalist: Stephen Curry
I don't even have to say much here. He's the only unanimous MVP ever, and that isn't even his best season ever. This is the best season of Steph's NBA career. He faced double teams, and even triple teams, every night and still dropped a career high 32 points per game. He's the MVP for a lot of people. Look at Curry man, so inspirational. (Shoutout to Flight because he predicted Curry's 32/5/5 averages in a video prior to the season.)
Finalist: Nikola Jokic
Jokic is just unreal. He's a slow, chubby 6'11" dude who's basically a point guard. This year he averaged 26 PPG (6 more than he ever has), and he still put up a career high assists per game. He also scored very efficiently. He shot an insane 53% from the mid-range. Jokic is a unique player, and we'll never see anybody else like him. The most important part of his MVP campaign is Jamal Murray's injury. Jokic lost his main sidekick for the rest of the season, and the Nuggets kept winning like nothing happened. Jokic is crazy good.
2020-21 NBA Most Valuable Player: Nikola Jokic
All-NBA Teams
All-NBA Leave-offs due to games played: James Harden, Kevin Durant, and Anthony Davis. That's three top ten players. It's kinda weird leaving these guys off. The only reason LeBron is on a team is because the forward position got a little bit shallow. I couldn't have Zion because of team success. I couldn't have two Celtics, so Jaylen Brown was a no. DeMar DeRozan and Domantas Sabonis don't have team success either.
All-NBA First Team
G- Stephen Curry
G- Damian Lillard
F- Kawhi Leonard
F- Giannis Antetokounmpo
C- Nikola Jokic
All-NBA Second Team
G- Luka Doncic
G-Kyrie Irving
F- Jimmy Butler
F- Julius Randle
C- Joel Embiid
All-NBA Third Team
G- Bradley Beal
G- Chris Paul
F- LeBron James
F- Jayson Tatum
C- Rudy Gobert
All-Defensive First Team
G- Ben Simmons
G- Jrue Holiday
F- Draymond Green
F- Giannis Antetokounmpo
C- Rudy Gobert
All-Defensive Second Team
G- Matisse Thybulle
G- T.J. McConnell
F- Jimmy Butler
F- Bam Adebayo (he played 30% of his minutes at forward this year.)
C- Joel Embiid
Just a quick little thought here – positions for All-NBA/All-Defensive teams is stupid! I didn't get to give Myles Turner or Nerlens Noel recognition because there's only two center spots. I cheated with Bam Adebayo. The NBA needs to make those two teams like the All-Rookie teams, where there isn't a position requirement.
All-Rookie First Team
Lamelo Ball
Anthony Edwards
Tyrese Haliburton
Saddiq Bey
Immanuel Quickley
All-Rookie Second Team
Jae'Sean Tate
Malachi Flynn
Isaiah Stewart
Desmond Bane
Facundo Campazzo
So, those are all my NBA awards! Do you agree? Let me know! See you next time!
(By the way, when I had Mike James as an MVP honorable mention, that was quite obviously a joke.)