A couple of days ago, I came out with my award predictions. This is my second preseason prediction article (out of three). Today, I'll be giving my team power rankings for the 2021-22 season. These power rankings are based on how good the team will be in both the regular season and the playoffs (my prediction for their regular season seed will be listed). They take into account roster talent, roster chemistry, and past success (or lack of it).
Let's get into it!
1: Milwaukee Bucks (1 Seed in East)
Key Players: Giannis Antetokounmpo, Khris Middleton, Jrue Holiday, Bobby Portis Jr.
The reigning champs, my Milwaukee Bucks, are looking very capable of a repeat. The Nets and Lakers talent does scare me, but nobody scares my pick for 2022 MVP Giannis Antetokounmpo. He's just entering his prime, and he's already won 2 MVPs, a DPOY, and a FMVP. This could be the best season of his career, and he's ready to lead the Bucks back to the Finals with the help of Khris, Jrue, and a deep bench (headlined by Bobby Portis, Pat Connaughton, and George Hill). The Bucks are my number one team headed into the 2022 season.
2: Brooklyn Nets (2 Seed in East)
Key Players: Kevin Durant, James Harden, Kyrie Irving
The Nets are no doubt the most talented team in the league. Beyond their big 3, they have the deepest team in the league (Their role players include LaMarcus Aldridge, Patty Mills, Blake Griffin, Bruce Brown, and Paul Millsap). They would be my number one team if it wasn't for the question marks with their top guys. The big one is Kyrie Irving. For some reason, he won't get vaccinated. GM Sean Marks announced that Kyrie will not be able to practice or play with the team at all until he gets the vaccine. That's a huge problem for the Nets. Also, can Kevin Durant and James Harden stay healthy? KD played just 48% of games last season, and Harden played 61%. Ultimately, for a team that's so good on paper, there are too many question marks for me to have the Nets at one.
3: Los Angeles Lakers (2 Seed in West)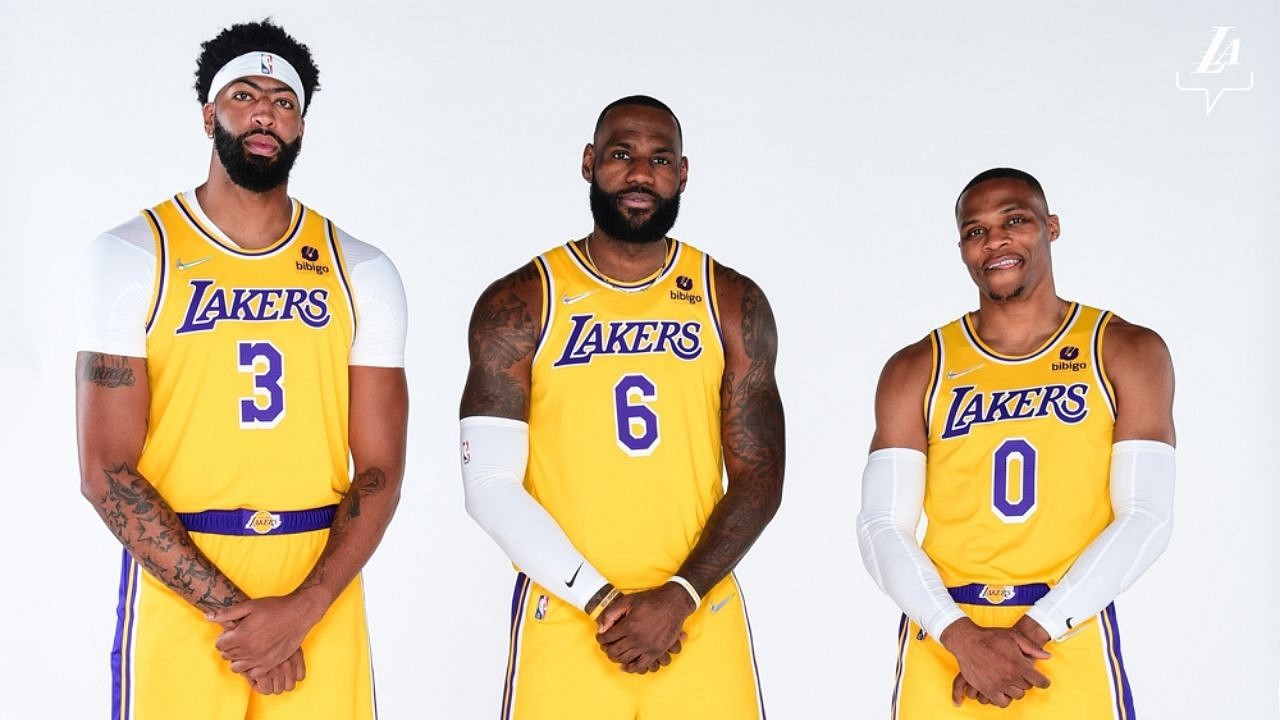 Key Players: LeBron James, Anthony Davis, Russell Westbrook
Led by three of the biggest names in the NBA, a rag-tag group of veterans (who are almost all former Lakers) will be the best team in the 2022 Western Conference. Any team that has LeBron is automatically a Finals contender. If Anthony Davis stays healthy this season, he'll have the best year of his career. Russell Westbrook puts up the stats, but he needs to prove that he can mesh with superstars and be effective without the ball. I couldn't leave the Lakers out of the conversation for the best team in the league, but they're not untouchable. Other top teams in the West can and will knock the Lakers off if they aren't playing up to par.
4: Phoenix Suns (1 Seed in West)
Key Players: Chris Paul, Devin Booker, Deandre Ayton, Mikal Bridges
Coming off a tough end to a great run, the Suns will be looking to return to the Finals in 2022. With all their core guys back, they are geared to do so. CP3 and Devin Booker form one of the best backcourts in the league. Deandre Ayton played excellent in the playoffs, and if he can carry that over into the regular season he could be an All-Star. Mikal Bridges plays his 3&D role perfectly, and if he improves as a shot creator the Suns offense will be near unstoppable. Combine those guys with a strong group of role players (headlined by Jae Crowder, Cameron Payne, and Cameron Johnson), and the Suns are the biggest threat to the Lakers in the West.
5: Utah Jazz (3 Seed in West)
Key Players: Donovan Mitchell, Rudy Gobert, Mike Conley, Jordan Clarkson
The top seed in the West in 2021, the Utah Jazz have proved they are a great regular season team. Led by top shooting guard Donovan Mitchell and three-time DPOY Rudy Gobert, they have made the playoffs every season since 2017. Despite the regular season success, they haven't made it past the second round in the Donovan era. Part of that is due to a lack of depth beyond the 9th or 10th guy. The additions of Rudy Gay, Eric Paschall, and NBA-ready rookie Jared Butler will help fix that problem. The Jazz will finish near the top of the conference again in 2022, but they will need to get it done in the playoffs.
6: Philadelphia 76ers (3 Seed in East)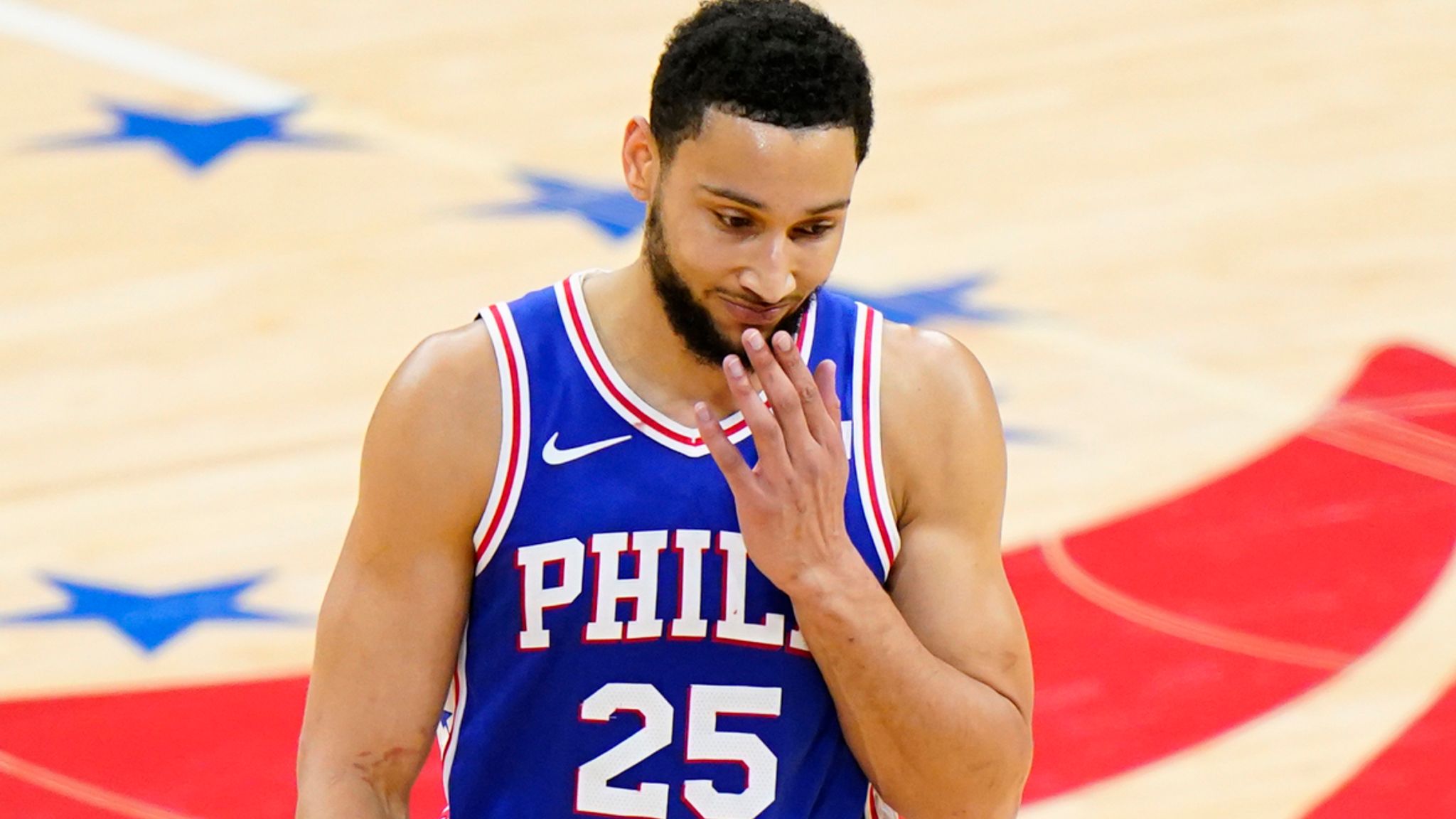 Key Players: Joel Embiid, Ben Simmons, Tobias Harris, Seth Curry
After their best regular season in the Embiid and Simmons era, the 76ers are now in a tough situation. Will Ben Simmons return to Philly in 2022? At this point, with just a few days until the regular season tips off, Ben will likely be on the team to start the year. If Philly convinces him to stay, they could be better than the Jazz. If he's traded, they could be worse than Atlanta and Miami (because Ben's value has tanked so much since the playoffs). Embiid is in his prime, Tobias Harris is a consistent third option, and the desperately needed floor-spacing role players are there (Seth Curry, Danny Green, and Furkan Korkmaz lead that group). Just like last season, everything comes down to Ben Simmons for the Philadelphia 76ers.
7: Atlanta Hawks (4 Seed in East)
Key Players: Trae Young, John Collins, Clint Capela, De'Andre Hunter, Bogdan Bogdanovic
The best part of the Hawks' surprise 2021 Conference Finals run is that they have no pressure heading into 2022. Trae and his talented young supporting cast are still growing to their full potential, and they are not riding on this season at all. With the help of a deep group of role players headlined by Bogdan Bogdanovic, Danilo Gallinari, and Lou Williams, Atlanta is geared to make another playoff run as an underdog.
8: Miami Heat (5 Seed in East)
Key Players: Jimmy Butler, Bam Adebayo, Kyle Lowry, Tyler Herro, Victor Oladipo
With the acquisitions of Kyle Lowry and Victor Oladipo (as well as P.J. Tucker), Miami has bolstered their collection of gritty players who get it done on defense. They will be up there with the best defenses in the league. Their offense struggled in the playoffs against Milwaukee, but Kyle Lowry will help open things up as a playmaker and a shooter. Miami's X-factor for this season is Tyler Herro. After a lackluster sophomore season, I no longer believe that Tyler will become the player that he was in the 2020 playoffs. It seems he doesn't have the drive to get better. If Miami can get him to buy into the hardworking Heat culture, he would make the Heat's roster much scarier.
9: Golden State Warriors (4 Seed in West)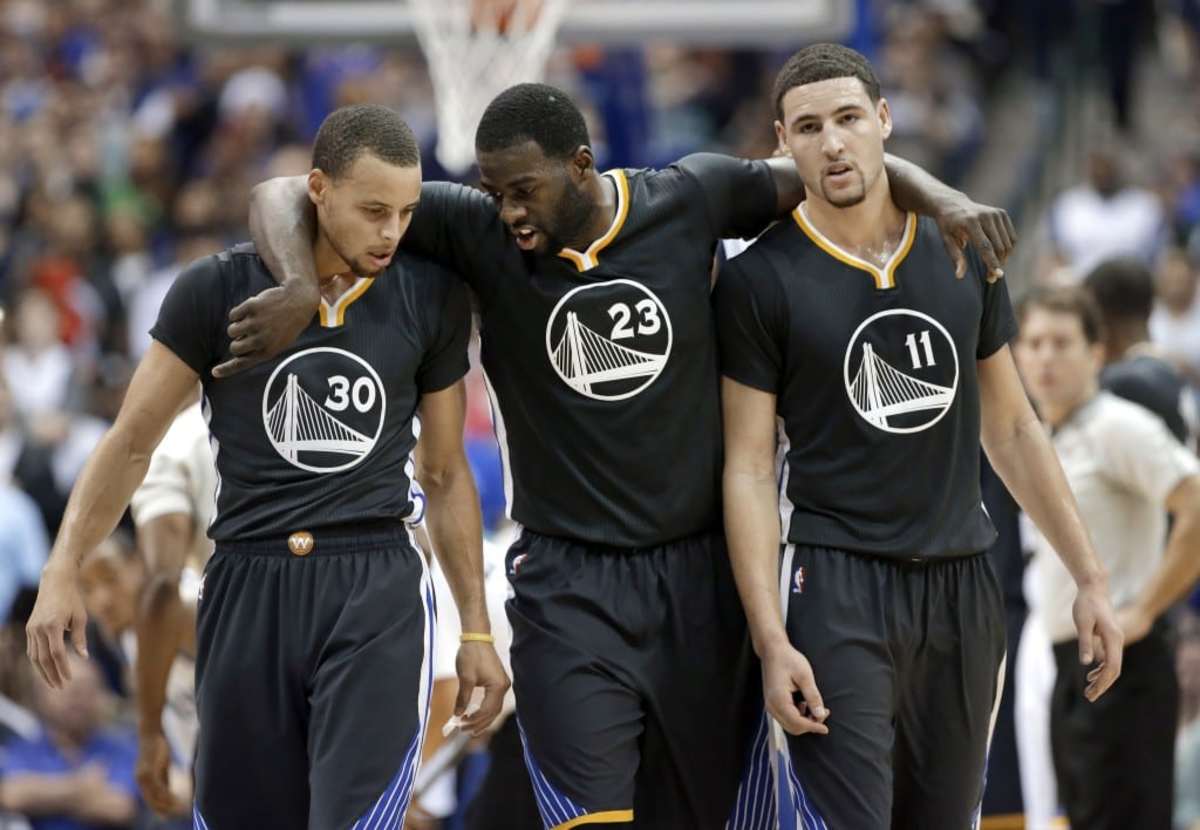 Key Players: Stephen Curry, Klay Thompson, Draymond Green, Andrew Wiggins, Jordan Poole
After missing the playoffs for two straight seasons, the Warriors will make their return to contention in 2022. With Klay Thompson set to play in December, the gang's all back together. Steph is as good as he'll ever be. Draymond is still one of the premier glue guys in the league. Andre Iguodala came back for one last hurrah. Kevon Looney is still around. The healthy Warriors are a scary team, and they have a shot at winning the title.
10: Denver Nuggets (5 Seed in West)
Key Players: Nikola Jokic, Jamal Murray, Michael Porter Jr.
The Nuggets have established themselves as a top ten team in the league. Nikola Jokic's elite passing ability makes the Nuggets offense one of the best. Of course, Jokic needs players to pass to. That's what guys like MPJ, Will Barton, and Aaron Gordon are there for. That roster will keep the Nuggets in a top 5 seed, but the deciding factor for just how good they will be is when Jamal Murray will return. If he comes back and plays like himself, the Nuggets will be ready to make a deep playoff run.
11: Los Angeles Clippers (6 Seed in West)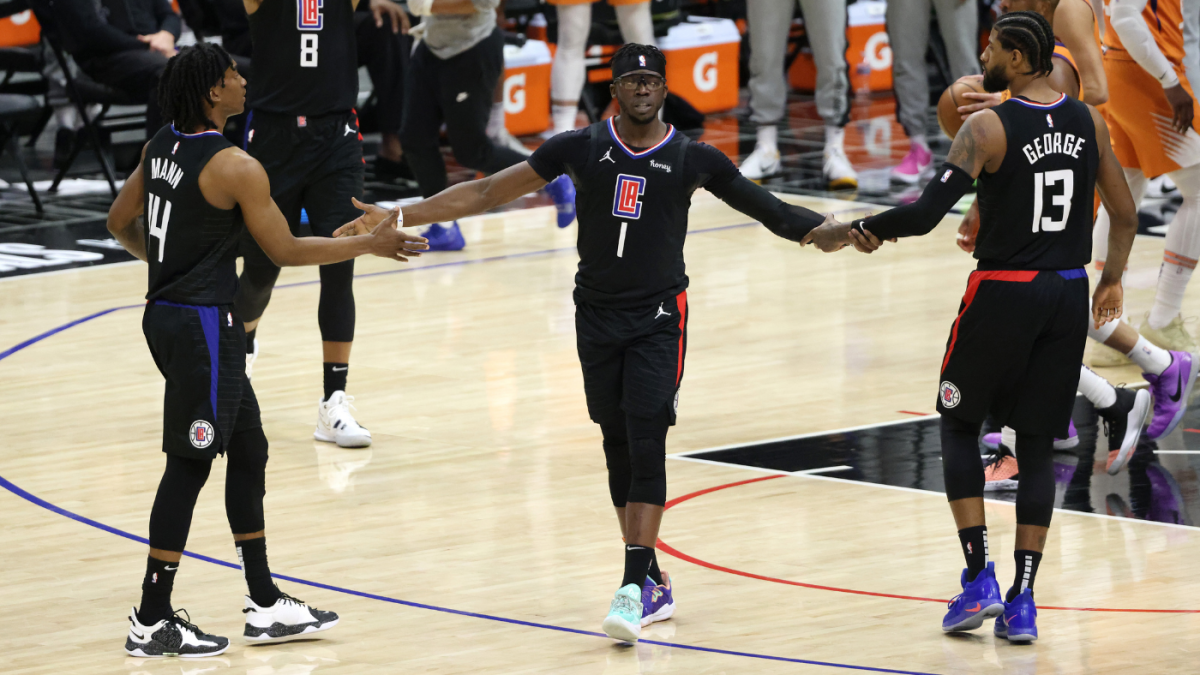 Key Players: Paul George, Kawhi Leonard, Reggie Jackson, Terance Mann
The Clippers made a great run in the 2021 playoffs, making it all the way to the Conference Finals even after Kawhi Leonard got injured in the second round. That leads me to believe that they can stay afloat in 2022 until Kawhi returns. Led by my dark horse MVP Paul George and 2021 playoff standouts Reggie Jackson and Terance Mann, the Clippers will be a threatening lower seed in the West this season.
12: Chicago Bulls (6 Seed in East)
Key Players: Zach LaVine, DeMar DeRozan, Nikola Vucevic, Lonzo Ball, Coby White
After almost half a decade of mediocracy, things are looking up for the Chicago Bulls and their fans. Trading for Nikola Vucevic at the 2021 trade deadline was just the start. The acquisitions of four-time All-Star DeMar DeRozan, former number two pick Lonzo Ball, and championship role player Alex Caruso put the Bulls in position to make the playoffs for the first time since Jimmy Butler was on their roster. With Zach LaVine at the helm, Chicago will be a team nobody wants to face in the first round in 2022.
13: Boston Celtics (7 Seed in East)
Key Players: Jayson Tatum, Jaylen Brown, Marcus Smart
2022 will be a big season for the duo of Jayson Tatum and Jaylen Brown (and subsequently the Celtics). Iso-heavy guard Kemba Walker hurt the Celtics' offense by taking shots away from Jayson and Jaylen. Now, the young wings will be able to take over on offense. This will allow them to develop to their full potential. The Celtics defense should also be good, with Jaylen, Marcus Smart, and Al Horford leading the effort. I expect a sneaky good year from the guys in TD Garden.
14: New York Knicks (8 Seed in East)
Key Players: Julius Randle, R.J. Barrett, Kemba Walker, Derrick Rose, Evan Fournier
After a breakout regular season for the New York Knicks, they fell short in the playoffs against Atlanta. Now, they've improved. Newcomers include Kemba Walker and Evan Fournier, adding much needed scoring. Their roster is deep and talented, but in the competitive Eastern Conference it will be hard to make another run at the 5th seed.
15: Trail Blazers (7 Seed in West)
Key Players: Damian Lillard, C.J. McCollum, Jusuf Nurkic, Norman Powell
The Blazers have a lot to prove to Damian Lillard in 2022. Dame's shown to be very loyal, but if Portland can't win, there is a chance that he leaves. Everything depends on how his supporting cast plays. C.J. is a consistent second option on offense, but can he be the second guy on a championship level team? Can Jusuf Nurkic return to his bubble form? Is Norman Powell even a good fit in Portland at all? Glue guys like Robert Covington and Larry Nance Jr. are exactly what the Blazers need. If the Blazers are struggling at the trade deadline, I think they should try to acquire a do-it-all forward (Tobias Harris, Jerami Grant, and Gordon Hayward are some names that come to mind). Overall, the Blazers are talented enough to make the playoffs, but it won't be an easy road in an ultra-competitive Western Conference.
16: Dallas Mavericks (8 Seed in West)
Key Players: Luka Doncic, Kristaps Porzingis, Tim Hardaway Jr., Boban Marjanovic
After their second first-round exit in two years, it became clear that Luka's supporting cast needed to improve. Unfortunately, I don't think that happened. Reggie Bullock and Moses Brown are solid role players who had good 2021 seasons, but they won't move the needle. It's going to take a return to All-Star form from Kristaps Porzingis for the Mavs to be any sort of contender.
17: Indiana Pacers (9 Seed in East)
Key Players: Domantas Sabonis, Malcolm Brogdon, Caris LeVert, Myles Turner, T.J. Warren
On paper, the Pacers starting lineup looks like they should be near the top of the conference. Although they have no superstar, Domantas Sabonis is a top 30 player. Malcolm Brogdon is an All-Star level guy. Caris LeVert can get you 20 points and 5 assists every night. Myles Turner is a monster shot blocker. Combined with their role players (T.J. McConnell, Justin Holiday, Jeremy Lamb), the Pacers roster is very solid. Unfortunately, their play doesn't match their roster. The Pacers will be in the play-in tournament for the second straight season.
18: Minnesota Timberwolves (9 Seed in West)
Key Players: Karl-Anthony Towns, D'Angelo Russell, Anthony Edwards, Malik Beasley
Karl-Anthony Towns is ready to compete, and the Timberwolves are now talented enough to do it. D'Angelo Russell, who is statistically one of the best clutch guys in the league, has become underappreciated since his Brooklyn days. Anthony Edwards will build off his already productive rookie season. Malik Beasley will make a run at 6MOY. Jaden McDaniels is an intriguing young guy with potential on both ends. Jarred Vanderbilt plays good defense. Led by the best stretch big ever and the man with ice in his veins, the Timberwolves will make a play-in run in 2022.
19: Charlotte Hornets (10 Seed in East)
Key Players: LaMelo Ball, Terry Rozier, Gordon Hayward, Miles Bridges
The Hornets were my third favorite team to watch in 2021. I had a ton of fun watching Terry Rozier, Miles Bridges, LaMelo Ball, and the rest of the guys hoop to the tune of Eric Collins's legendary play-by-play. Now, the collection of young stars is ready to play their first real competitive basketball. The playoffs may not be in the cards for Charlotte, but they certainly will win some games this year and do so in exciting fashion.
20: Memphis Grizzlies (10 Seed in West)
Key Players: Ja Morant, Dillon Brooks, Jaren Jackson Jr.
Memphis's success in 2022 will be based on who gets better and how much better they get. Can Ja Morant become an All-Star? Can Dillon Brooks translate his 2021 playoff performance to the regular season? Will Jaren Jackson be the breakout player GMs expect him to be? Even if they don't make the playoffs, the Grizzlies will be an exciting team to watch this season.
21: Toronto Raptors (11 Seed in East)
Key Players: OG Anunoby, Fred VanVleet, Pascal Siakam, Gary Trent Jr., Scottie Barnes
The Raptors are rebuilding for the first season in a while, and they've got a good young core to start off with. OG Anunoby is in for a big year. He has the potential to be better than VanVleet and Siakam. Gary Trent Jr. is a three-point sniper, and will look to become an all-around scorer. Top 5 pick Scottie Barnes impressed me and many others during preseason. The big win for the Raptors is that they have returned to their home in Toronto.
22: Washington Wizards (12 Seed in East)
Key Players: Bradley Beal, Rui Hachimura, Spencer Dinwiddie, Kyle Kuzma
Bradley Beal needs help. He's an elite scorer, but he can't do it all on his own. The Russell Westbrook trade left him without a star teammate. Instead, he has a collection of decent role players (Montrezl Harrell, Kentavious Caldwell-Pope, Davis Bertans, Rual Neto). Washington needs big seasons from young players Rui Hachimura, Kyle Kuzma, and Daniel Gafford to make any noise in the East.
23: New Orleans Pelicans (11 Seed in West)
Key Players: Zion Williamson, Brandon Ingram, Jonas Valanciunas, Nickiel Alexander-Walker
2022 will be another disappointing season for the Pelicans. Zion and Brandon Ingram are ready to win, but the team is not. Beyond Jonas Valanciunas and Devonte' Graham, the Pelicans depth is made up of young players who aren't quite ready to compete in the playoffs. It seems as if Zion is unhappy already, which is too bad because it puts unnecessary pressure on a team that should be focusing on development.
24: Sacramento Kings (12 Seed in West)
Key Players: De'Aaron Fox, Tyrese Haliburton, Buddy Hield, Richaun Holmes, Marvin Bagley III
The Kings are a mess. Their roster is ridiculously big-heavy. The player they picked over Luka Doncic and Trae Young, Marvin Bagley, is injury-prone and hasn't looked great when he's played. They have lots of money going to Buddy Hield and Harrison Barnes, two players who don't fit the rebuilding timeline. The only sure thing on the roster is De'Aaron Fox (Tyrese Haliburton and Davion Mitchell too, I guess). Sacramento needs to get their act together, or they will be stuck in mediocrity for seasons to come.
25: Detroit Pistons (13 Seed in East)
Key Players: Cade Cunningham, Jerami Grant, Saddiq Bey, Killian Hayes, Isaiah Stewart
I'm a fan of the Pistons's young core. Cade Cunningham looks like he'll be very special in this league, and he'll have great running mates as long as he's in Detroit. Saddiq Bey can really shoot the ball, which will keep him in the league for a long time. Isaiah Stewart is a gritty center who defends the rim. Killian Hayes is still kind of a question mark, but he's just 20 years old. With 2021 breakout guy Jerami Grant leading the team, I think the Pistons will surprise some people in 2022.
26: Cleveland Cavaliers (14 Seed in East)
Key Players: Collin Sexton, Darius Garland, Jarrett Allen, Evan Mobley, Lauri Markkanen
The Cavaliers have the young talent to eventually compete, but they also have decisions to make. The big one is deciding which guard to build around. Personally, I'm choosing Darius Garland. He's a playmaker as well as a scorer, and has a higher ceiling than Sexton. But does that mean Sexton should get traded? I don't know. Also, with Lauri Markkanen now on the squad, who starts in the frontcourt? Evan Mobley has a ton of talent, and deserves to start. He's a natural center though, so can he start alongside Jarrett Allen without spacing becoming a problem? The Cavs are in a weird place right now. I'm curious to see how it works out.
27: San Antonio Spurs (13 Seed in West)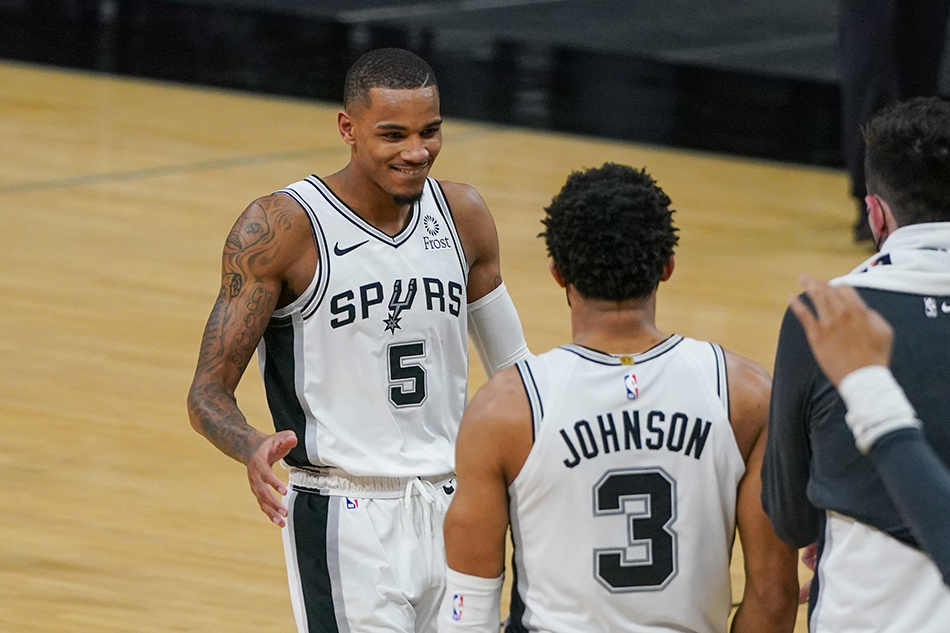 Key Players: Dejounte Murray, Derrick White, Keldon Johnson, Devin Vassell
The Spurs are rebuilding for the first time in decades, and this is the most excited I've ever been about them. I love their young core and the upside they have. Dejounte Murray will blossom in 2022 and win MIP while becoming a top 50 player. Keldon Johnson could be an All-Star one day. 2020 lottery pick Devin Vassell has shown huge growth in the Summer League and preseason, and I'm excited to see what he does this year. I'm a huge fan of 2021 lottery pick Josh Primo, and at 18 years old he has tons of time to develop. The fact that these guys are learning from the greatest coach of all time, Gregg Popovich, has me even more gassed to see what these guys can become. So while they probably won't be very competitive, I urge you to tune in to Spurs games if you get the chance. They'll be a lot of fun this year.
28: Houston Rockets (14 Seed in West)
Key Players: Kevin Porter Jr., Jalen Green, Christian Wood, Kenyon Martin Jr.
The James Harden era is officially over for Houston, and 2022 will be their first full rebuilding season in a while. They have two players that should be built around for the long term: Kevin Porter Jr. and Jalen Green. Both will have big seasons, and have bright futures. I don't think the Rockets will be very competitive this year, but the young trio of KPJ, Jalen, and Christian Wood should make Rockets games enjoyable.
29: Oklahoma City Thunder (15 Seed in West)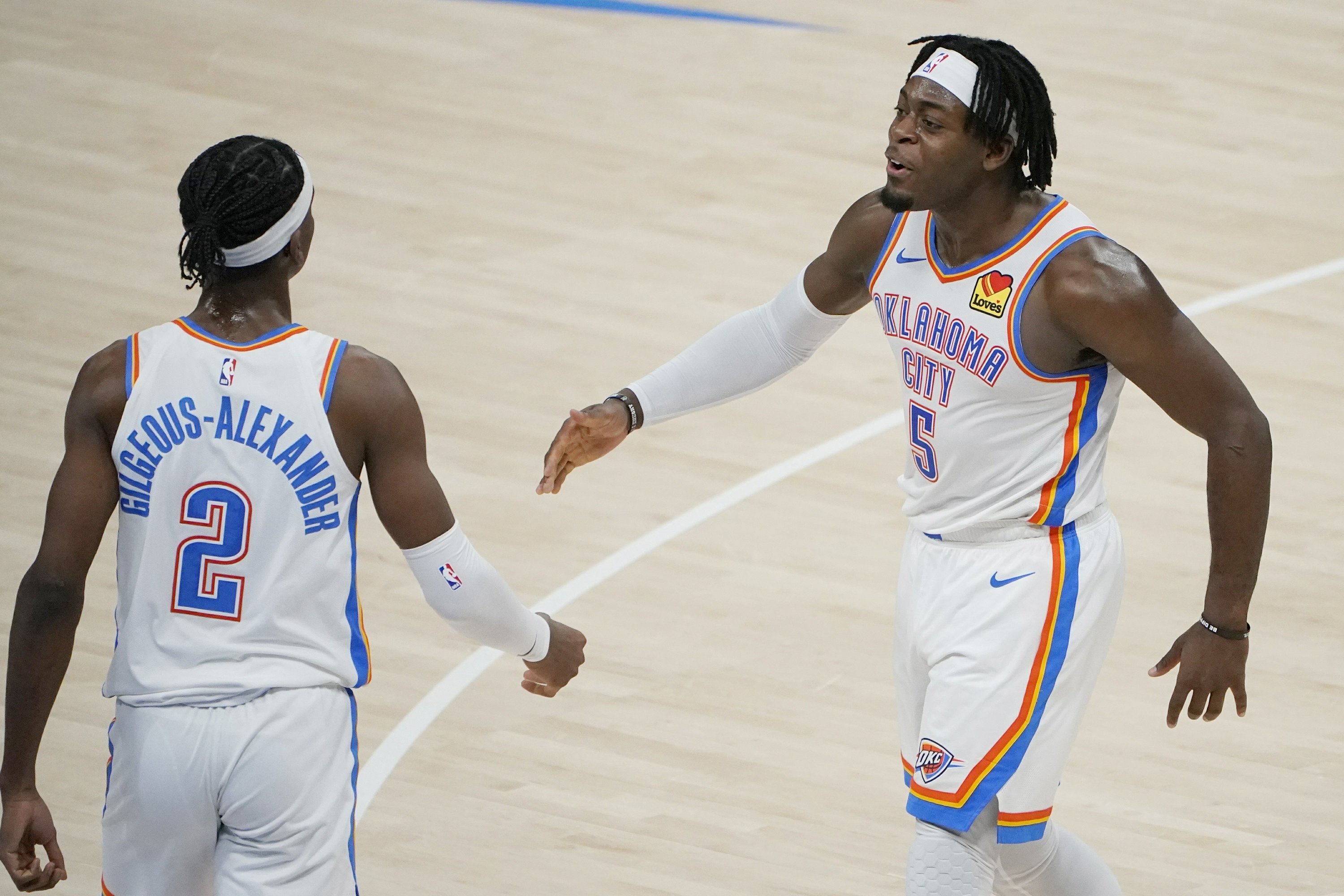 Key Players: Shai Gilgeous-Alexander, Luguentz Dort, Josh Giddey, Darius Bazley
OKC's main priority this season is to let their plethora of young talent develop. Shai is already an All-Star level guy, and he's just scratching the surface of his potential. Lu Dort, Josh Giddey, and Darius Bazley will all have big seasons. The youngest team in the NBA will not win many games in 2022, but they aren't supposed to.
30: Orlando Magic (15 Seed in the East)
Key Players: Jonathan Isaac, Markelle Fultz, Jalen Suggs, Wendell Carter Jr., Cole Anthony
The least talented team in the league will be the worst team in the league in 2022. Orlando will use this season to decide which of their young players are the cornerstones for their future. My key players should be bright spots in a very dull season for the Magic.