A few weeks ago, I put out my top 100 players of 2021 list. Now, I'm putting out my prediction list. I made one last year (wow. I've had this blog for an entire season. That's crazy), and it wasn't great. I did ok. I think I'm going to do better this time around.
The fun part about making a prediction list is predicting what young guys will make jumps and how big those jumps will be. There are multiple young guys on this list who didn't make my 2021 list.
So, what was my method for making this list? I just thought about how much better (or worse) a player will be at the end of next season compared to how they are now. There's no true criteria for this. It's just like "I think this guy is gonna have a really good season" or "this guy might take a step back". In some cases, there are guys who won't improve or regress at all, but they fall down the list due to other guys getting better.
Alright. Without further ado, here's my prediction for the top 100 (110) players of the 2022 NBA season.
(The stats you'll see next to the players are predictions for what the players will average. They are organized like this: PPG/RPG/APG, SPG and/or BPG, FG%/3PT%/FT%.)
Honorable Mentions (110-101):
110: Bojan Bogdanovic (16/5/1, 0.5 SPG, 42/40/88)
109: Miles Bridges (15/6/3, 1/1, 51/40/89)
108: Saddiq Bey (14/4/1, 44/42/85)
107: Wendell Carter Jr. (15/10/2, 1 BPG, 52/30/75)
106: Tim Hardaway Jr. (17/3/1, 43/41/82)
105: Brook Lopez (10/6/1, 1.5 BPG, 52/35/86)
104: Keldon Johnson (16/7/2, 1/1, 45/36/77)
103: Rui Hachimura (17/5/2, 1 SPG, 47/36/77)
102: Gary Trent Jr. (15/3/3, 1 SPG, 42/40/80)
101: Lonzo Ball (12/6/8, 2 SPG, 41/38/79)
My "honorable mentions" list contains lots of young guys making their first appearances on a top 100. Miles Bridges has enough pure talent to be higher, but I don't think his role will be big enough to do so. Saddiq Bey is primed for a huge shooting season with Cade Cunningham and Killian Hayes passing him the ball. I hate that I have Brook Lopez all the way down here, but there are so many talented players that I had to. Rui Hachimura will be Washington's third-best player. I'm still not as high on Lonzo as most people are, and I think he won't be more than a high-end role player for the Bulls.
Here's the actual top 100.
100: Seth Curry (16/3/2, 45/42/90)
Seth is an elite shooter. That won't change in 2022. He's shown that he's capable of scoring on high volume with high efficiency (he's never averaged more than 13 PPG in the regular season, but he averaged 19 in the 2021 playoffs), and that's exactly what he'll do this season with a bigger role in the Sixers offense.
99: Tyrese Haliburton (15/3/5, 1 SPG, 46/42/87)
Despite his unorthodox shot form, Tyrese is an efficient shooter and a capable playmaker. De'Aaron Fox's partner for the future will take his first step to becoming the second-best player on the Kings in 2022.
98: Chris Boucher (13/7/1, 2 BPG, 48/36/78)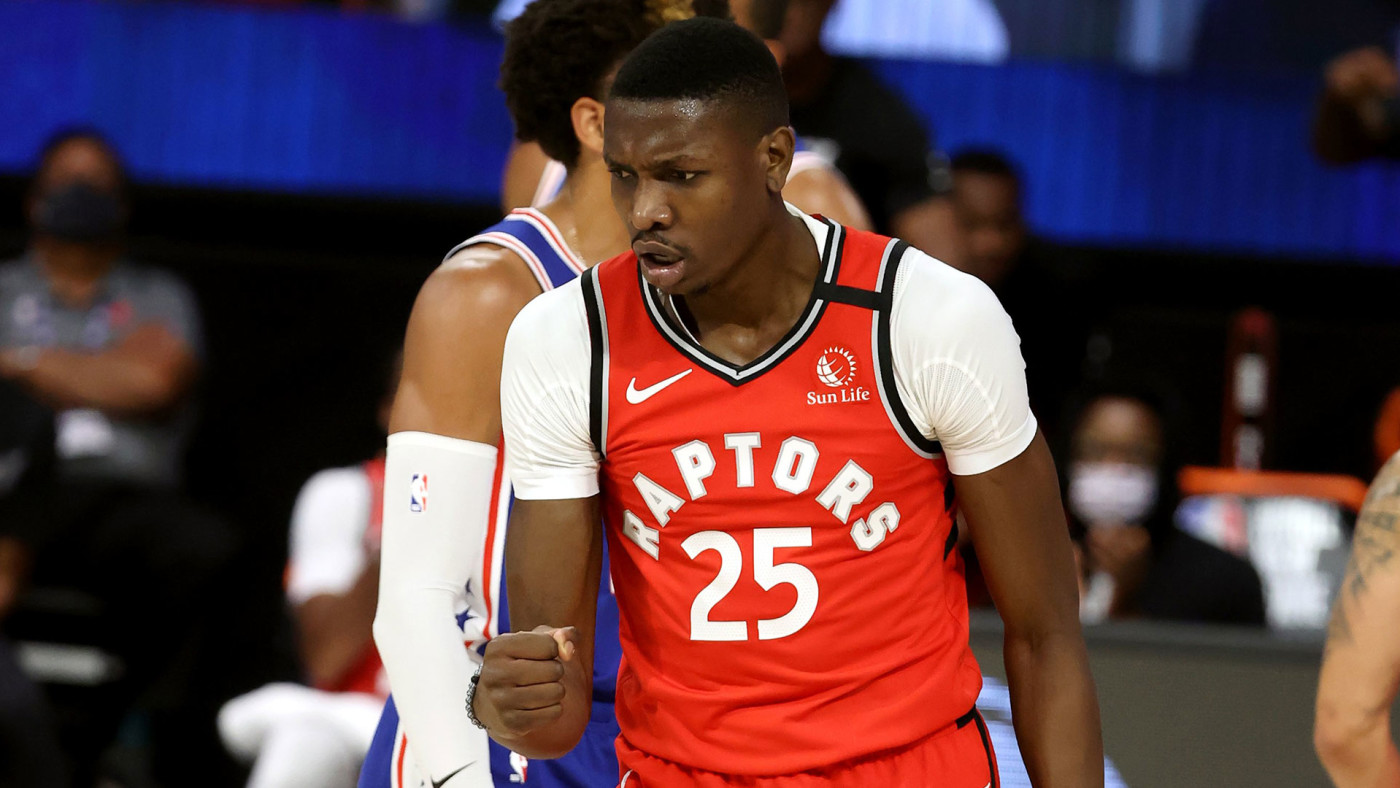 Coming off a MIP level season, Chris Boucher has proven that he is a starting-caliber center. However, now that he's sharing minutes with Khem Birch, Boucher's room to improve further is limited. That's why he'll stay around the same spot in 2022 as he landed in 2021.
97: Victor Oladipo (14/4/5, 1 SPG, 44/37/77)
Barring a return to All-Star form (which I doubt will happen), Oladipo will come off the bench in most of his games played in 2022 (Kyle Lowry and Duncan Robinson will be the Heat's starting backcourt). This will lead to him becoming a high-end role player. I think he'll be good enough to make the bottom of my list, but there's a chance he falls off completely.
96: Markelle Fultz (14/4/7, 1 SPG, 46/34/70)
Coming off a season where he played just 8 games, Markelle will be looking to stay fully healthy for the second season in his career. Last time he was healthy, he proved himself as a starting-caliber point guard who can pass and attack the rim. Assuming health, he will find that success again in 2022.
95: Reggie Jackson (18/4/4, 1 SPG, 45/39/82)
Reggie had an electric 2021 playoffs while Kawhi was injured. I expect that to carry over into the 2022 regular season, where he'll average 18+ PPG while helping the Clippers stay in the playoffs until Kawhi returns
94: Luguentz Dort (16/5/2, 1 SPG, 42/37/75)
Lu Dort is already great on defense. The next step is to improve his offense. He showed flashes in 2021, such as a 42 point game, but his consistency needs to improve. I think that will happen in 2022, and Dort will remain in the top 100.
93: De'Andre Hunter (13/4/1, 1 SPG, 48/40/85)
Last season, De'Andre cemented himself as a member of Atlanta's young core. He's already a high-level 3&D player, and should make a jump to become even more this season. De'Andre Hunter will have a big impact on any Hawks success in 2022.
92: Richaun Holmes (14/9/1, 1.5 BPG, 66/25/79)
On a roster with a loaded frontcourt, Richaun has established himself as the anchor. His paint presence on both ends will land him a spot in the top 100 for seasons to come. The only reason he falls lower than where he was in 2021 is that the excess amount of bigs on Sacramento's roster will result in fewer minutes for Richaun.
91: John Wall (14/4/6, 1 SPG, 42/35/75)
Wall and the Rockets came to an agreement that Wall will be off the Rockets in the near future. That's great for both sides, but as of now, I have no idea where Wall will end up and when he will play. That makes ranking him hard. I'm going the safe route and putting him low rather than high. We'll see where he ends up at the end of the year.
90: Derrick Rose (13/3/6, 1 SPG, 47/38/85)
I don't think D-Rose will regress too much from his 2021 season, I think guys below him will get better. Derrick is coming off his best season since his injury. His stats may drop in 2022 (due to more players on the Knicks needing shots than last year), but his impact won't.
89: Malik Beasley (18/3/2, 45/40/84)
Malik had an excellent scoring season in 2021, averaging an efficient 20 PPG. He will likely come off the bench in 2022, but that won't stop him from scoring effectively. Malik's bucket getting will be a big part of a Minnesota offense that could be top 10 in the league.
88: Buddy Hield (17/3/3, 43/40/85)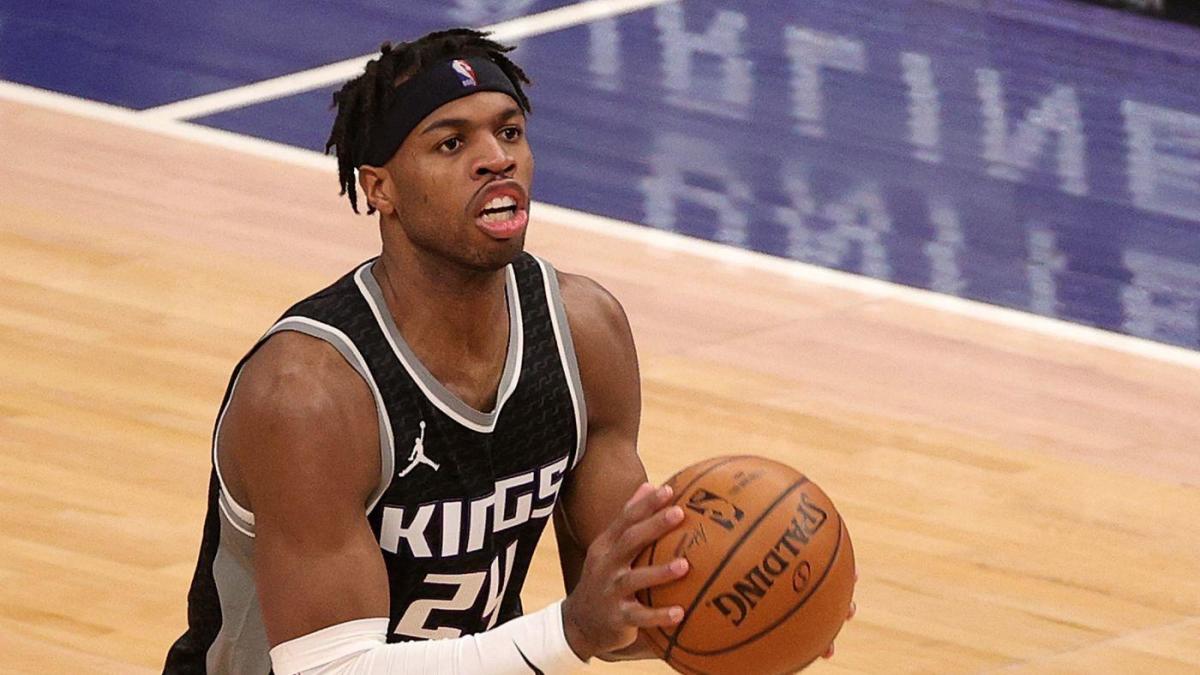 Buddy will continue to be one of the best three-point specialists in the league in 2022. That will land him on this list. To be higher, he must develop another skill (defense, slashing, playmaking).
87: Jalen Green (17/5/2, 43/36/82)
The first of two rookies on this list, Jalen Green is a smooth bucket getter. He's capable of averaging 20 right off the bat, but sharing shots with Kevin Porter Jr. and Christian Wood will likely lead to around 17 PPG from Jalen. He's very talented, so while he'll land in the mid-eighties in his rookie year, it won't be long before he's knocking on the door of the top 50.
86: Derrick White (17/5/5, 1.5/1, 45/38/84)
One of the most underrated guys in the league, Derrick is due for a big season. Playing for the rebuilding Spurs, he will be free to show his full talent. I expect 17 PPG, 5 APG, and more great defense from Derrick White in 2022.
85: T.J. Warren (16/4/2, 48/38/80)
After a foot injury caused him to play just four games in 2021, bubble god T.J. Warren is back and ready to go. How good will he be? We'll see. If he plays like he did in the 2019-20 season, he'll land higher on the list. I don't think he will, though, because he'll be sharing shots with four other top 100 guys.
84: Kevin Porter Jr. (17/4/7, 44/37/75)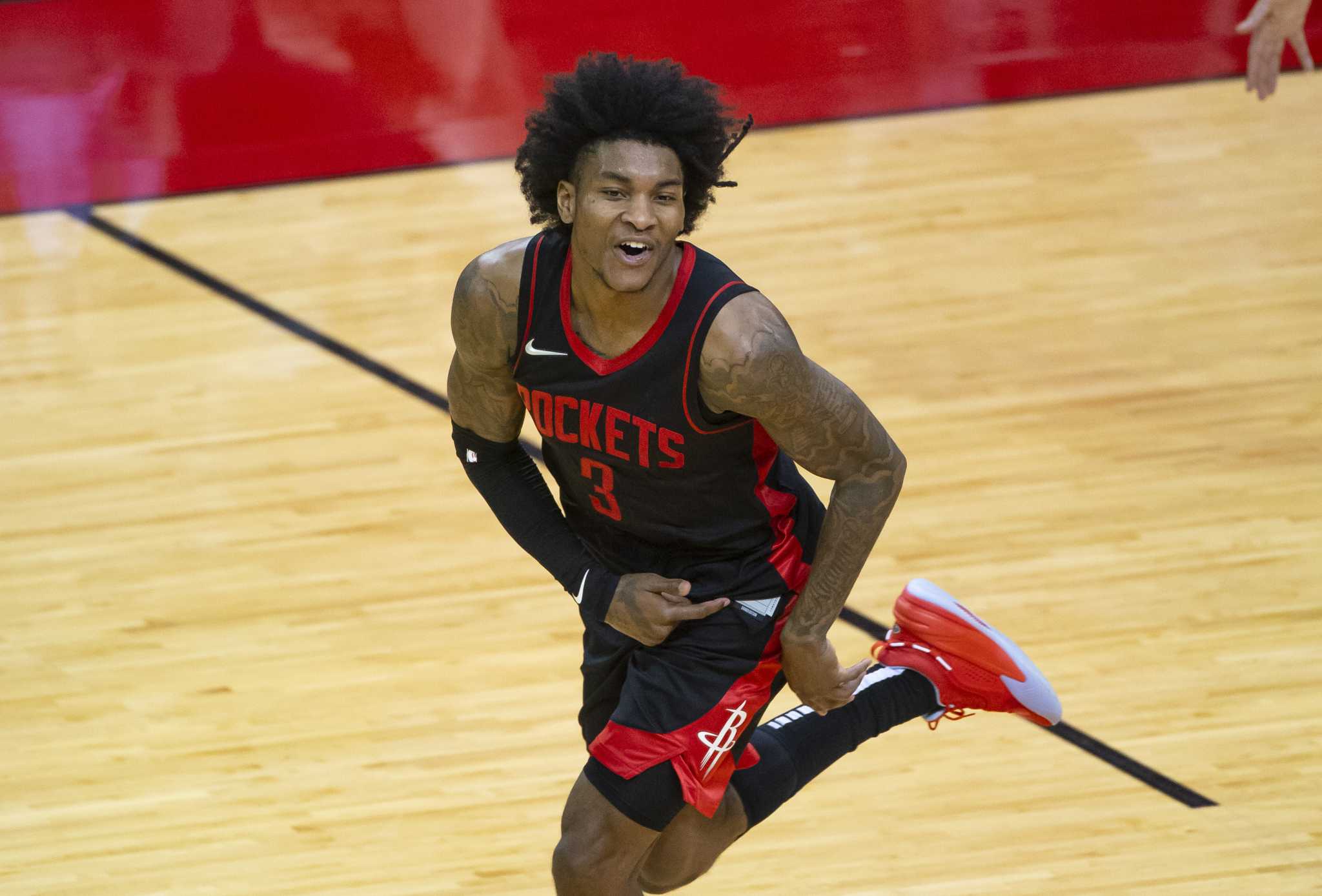 Kevin Porter Jr. balled out with Houston last season, and would have made my top 100 if he played more games. In 2022, he's gonna be great. KPJ is a bucket and a floor general. I love that his goal for this season is to average 9 assists. I'm excited to watch him go crazy.
83: Evan Fournier (17/3/1, 49/42/80)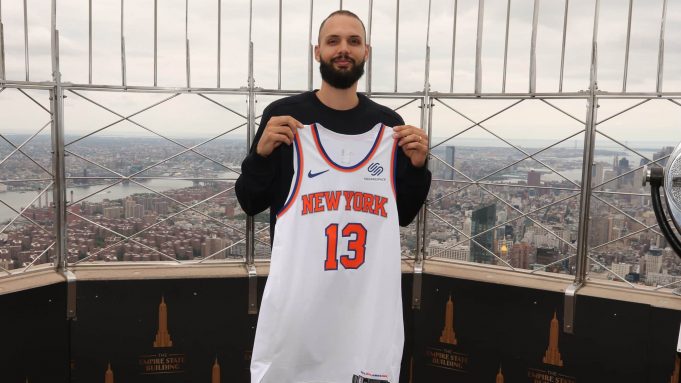 Evan Fournier is a consistent 18+ PPG, high efficiency guy. He's a great addition to the Knicks roster that struggled to score in the 2021 playoffs.
82: Jordan Clarkson (19/3/2, 43/35/88)
Jordan Clarkson fills up the scoring column, and that's why he won Sixth Man of the Year in 2021. He's my pick to win the award again in 2022. He would be higher if he was more efficienct.
81: Jarrett Allen (14/10/1, 1.5 BPG, 65/25/70)
Jarrett Allen is a very traditional center, but he's very good at what he does. His high-level rim protection and rebounding will land him in the top 100 for years to come.
80: Marcus Smart (10/4/6, 2 SPG, 40/36/80)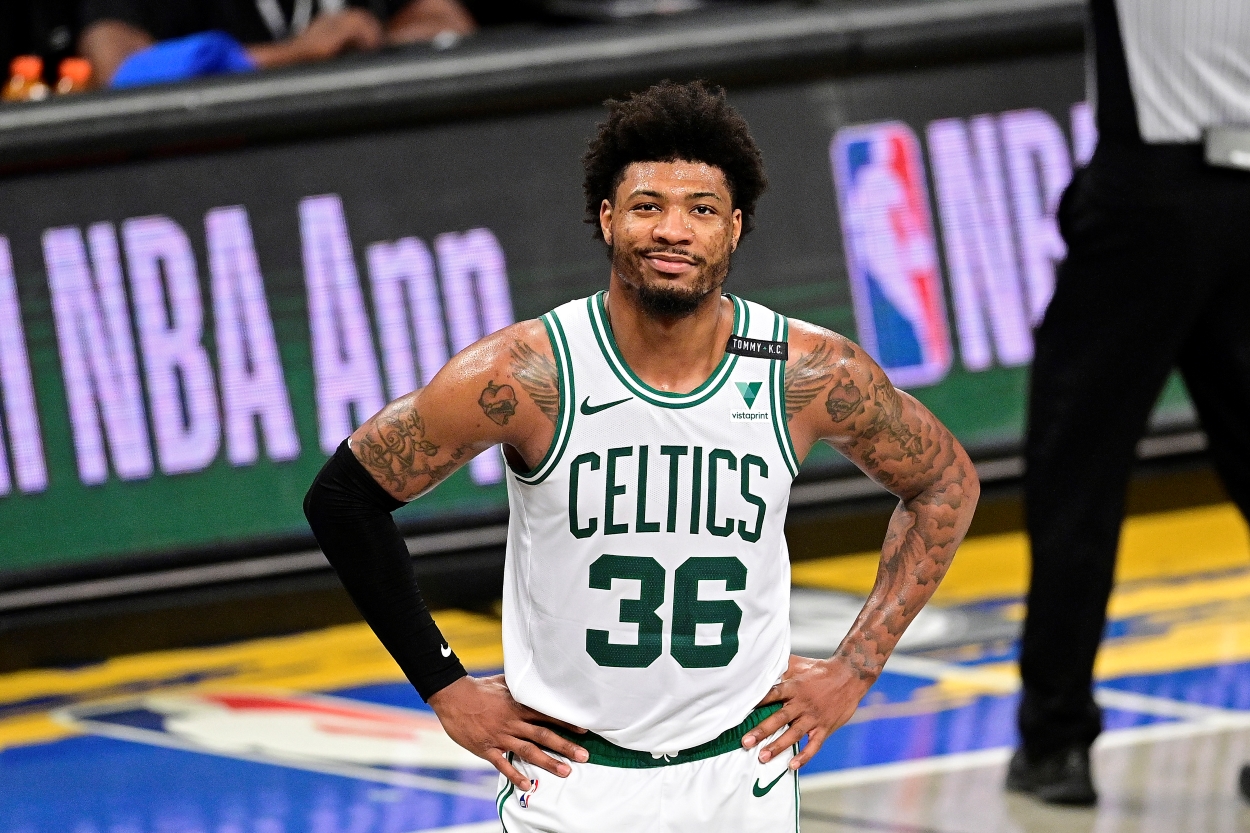 Marcus Smart is up there with the grittiest, hardest-working guys in the league. He is so valuable to the Celtics. Pure hustle earns Marcus his spot in the top 100.
79: Myles Turner (12/7/1, 3 BPG, 48/35/77)
Myles is one of the best (if not the best) shot blockers in the league. He averaged a ridiculous 3.4 BPG in 2021, and nothing suggests that he can't do it again. I could see the Pacers running a Utah Jazz-esque defense where they force the opposition to drive into Myles.
78: Bogdan Bogdanovic (16/3/3, 1 SPG, 45/42/88)
Bogey showed in 2021 that he's one of the best high volume, high efficiency 3PT specialists in the league. He also played the best defense of his career. Those trends should continue in 2022.
77: Andrew Wiggins (18/5/2, 1/1, 46/39/73)
Wiggins has bought into winning basketball, which will make him a big asset for a Warriors roster that is returning to contention. His numbers should be down with Klay Thompson coming back and Jordan Poole ready for a bigger role, but Wiggins's play on both ends of the floor have earned him a perennial spot in the top 100.
76: Cade Cunningham (16/5/6, 1 SPG, 44/37/83)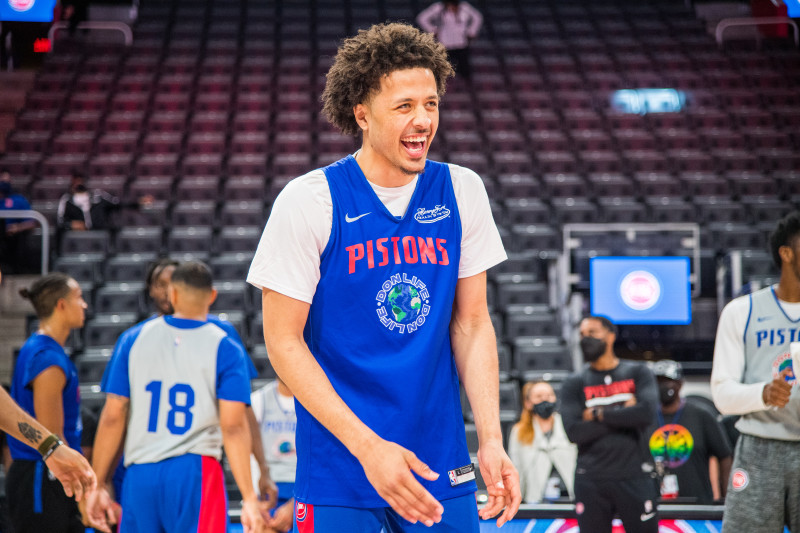 Cade has received the keys to the Detroit Pistons. He's their franchise guy for the future. He's ready to come in right away and have an impact, making him my pick for Rookie of the Year.
75: Jusuf Nurkic (14/12/3, 1/1.5, 52/34/70)
2021 was a fall from grace for Nurkic after his awesome 2020 season. He's got a lot to prove now on a Trail Blazers roster that needs him to produce. Nurk has the talent, he just needs to use it.
74: Spencer Dinwiddie (17/5/6, 1 SPG, 45/36/78)
Coming off a season that he missed most of due to injury, it's hard to tell how good Dinwiddie will be. He'll be playing for a Washington team that needs him to play a big role and play it well. I think he's capable of doing it.
73: Jonas Valanciunas (14/12/2, 1.5 BPG, 56/34/76)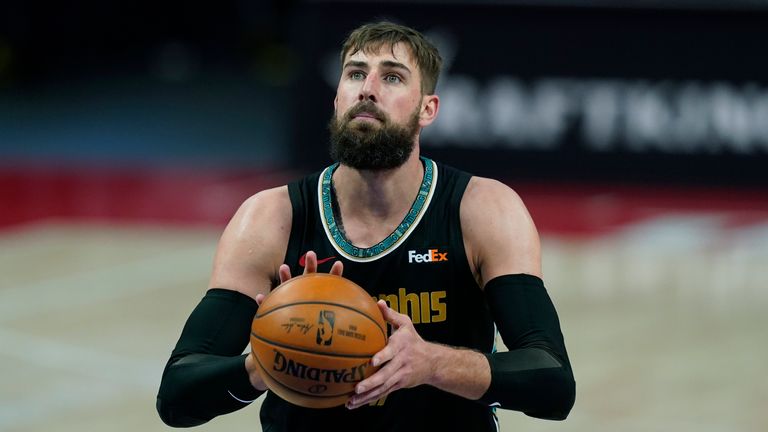 Jonas Valanciunas is underrated. He's one of the best rebounders in the league, and an elite screen setter. Unfortunately, I don't think his fit in New Orleans is great. They'll be relying on his ability to shoot too much because Zion clogs the paint. That's why he will fall far from where he ranked in 2021.
72: Jonathan Isaac (15/6/1, 1.5/1.5, 46/37/78)
Another player who was injured during the 2021 season, Isaac hasn't played a game since the bubble. Isaac is best known for his defense, but will improve his offense this season. I think he'll be in the MIP conversation.
71: Jaren Jackson Jr. (17/7/2, 1.5 BPG, 47/38/78)
In his first two seasons, Jaren showed that he has a bright future. An injury in 2021 slowed that down, but he will have a big 2022 season. His defense, shooting, ball handling, and finishing make him a very unique player.
70: Dillon Brooks (18/4/2, 1.5 SPG, 46/38/82)
Dillon broke out in the 2021 playoffs, and now will look to bring that play into the regular season. I think he's capable of doing it. 18 PPG along with gritty defense will put Dillon into the top ten shooting guard conversation.
69: Norman Powell (18/4/2, 1 SPG, 46/40/86)
Stormin' Norman had an awesome 2021 season, breaking out as a near 20 PPG scorer. I question his fit in Portland (his numbers falling off a little after the trade backs my feeling), and I don't think he'll be able to play as well as he can in 2022.
68: R.J. Barrett (17/5/2, 45/40/74)
R.J. had a breakout season in 2021. I was confident in his ability to improve further this season, but the additions of Kemba Walker and Evan Fournier leave the Knicks with a ton of guys who score. That will stunt R.J.'s growth a little, and he'll play similarly to how he did in 2021.
67: Mikal Bridges (16/5/2, 1.5 SPG, 49/41/84)
Mikal was a key 3&D role player for the Suns during their Finals run. He is capable of being more, and I think he'll show that in 2022. His shot creating ability should improve this year, making him even more of a weapon on offense.
66: Darius Garland (17/3/7, 1 SPG, 45/39/85)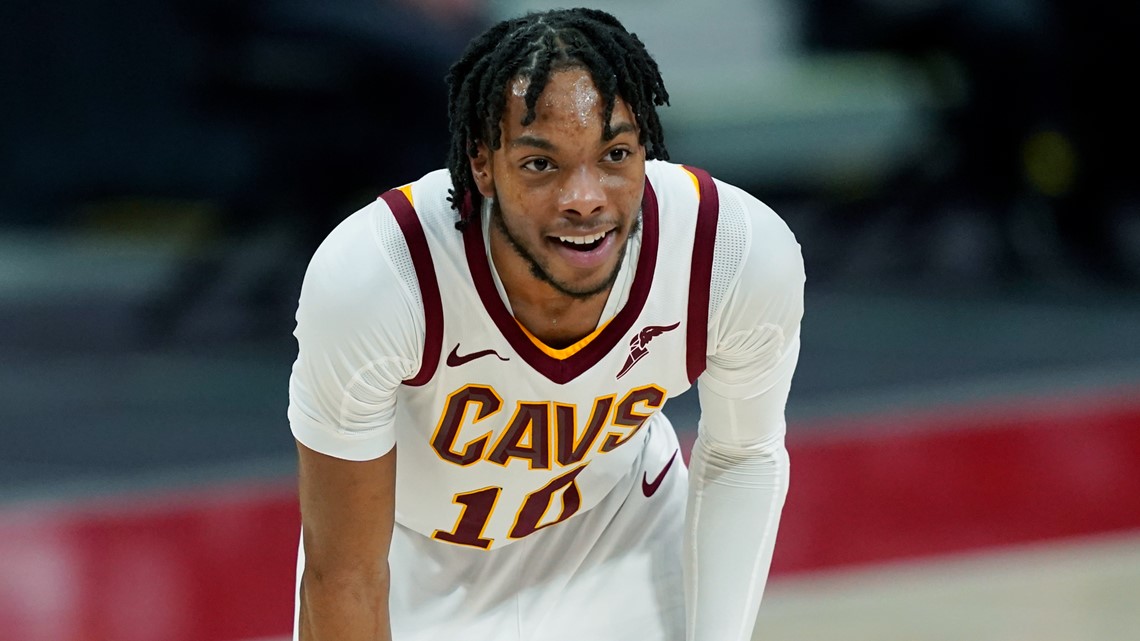 Although I think Collin Sexton will have a better season than him, Darius Garland is Cleveland's guard of the future. He's a three-level scorer, and a playmaker. I like Garland's game a lot, and the sky's the limit for him.
65: Anthony Edwards (20/5/3, 1.5 SPG, 45/36/79)
Ant's performance in 2021 showed why he was the number one pick in the 2020 draft, but he still has lots of room to grow. I think he'll improve a lot this season, starting with his efficiency. Shooting more effectively will make his scoring more impactful, which the Wolves will need to compete this season.
64: Kristaps Porzingis (20/8/2, 2 BPG, 45/38/83)
Injuries have affected Kristaps's career since his All-Star season, but he still needs to step up. He's become a stationary shooter at the five position, when he could be much more. Maybe Rick Carlisle wasn't using him correctly, and Jason Kidd can unlock the old Porzingis. We'll see.
63: Caris LeVert (19/4/5, 1.5 SPG, 46/36/80)
LeVert has become a consistent secondary ball handler/shot creator. Recovering from a mass in his kidney had him playing a little below par last season, but this year he'll return to form. It will be interesting to see how much he has the ball in his hands with Brogdon, Sabonis, and T.J. Warren also needing the ball in Indiana.
62: Mike Conley (16/3/7, 1 SPG, 45/42/85)
Whether it was a pity selection or not, Mike Conley made his first All-Star game in his 14 year career last season. Although it's high ly unlikely he'll make it again in 2022, he will play just as well.
61: Kemba Walker (18/4/7, 1 SPG, 42/36/88)
Even though Kemba is definitely a shoot-first guy, he's unselfish too. With the most offensive weapons he's ever had around him, he should have a great passing year. He'll score too, of course (although hopefully more efficiently than last year). Kemba's performance will be the decider of how good the Knicks are this season.
60: OG Anunoby (18/6/2, 1/1, 51/40/76)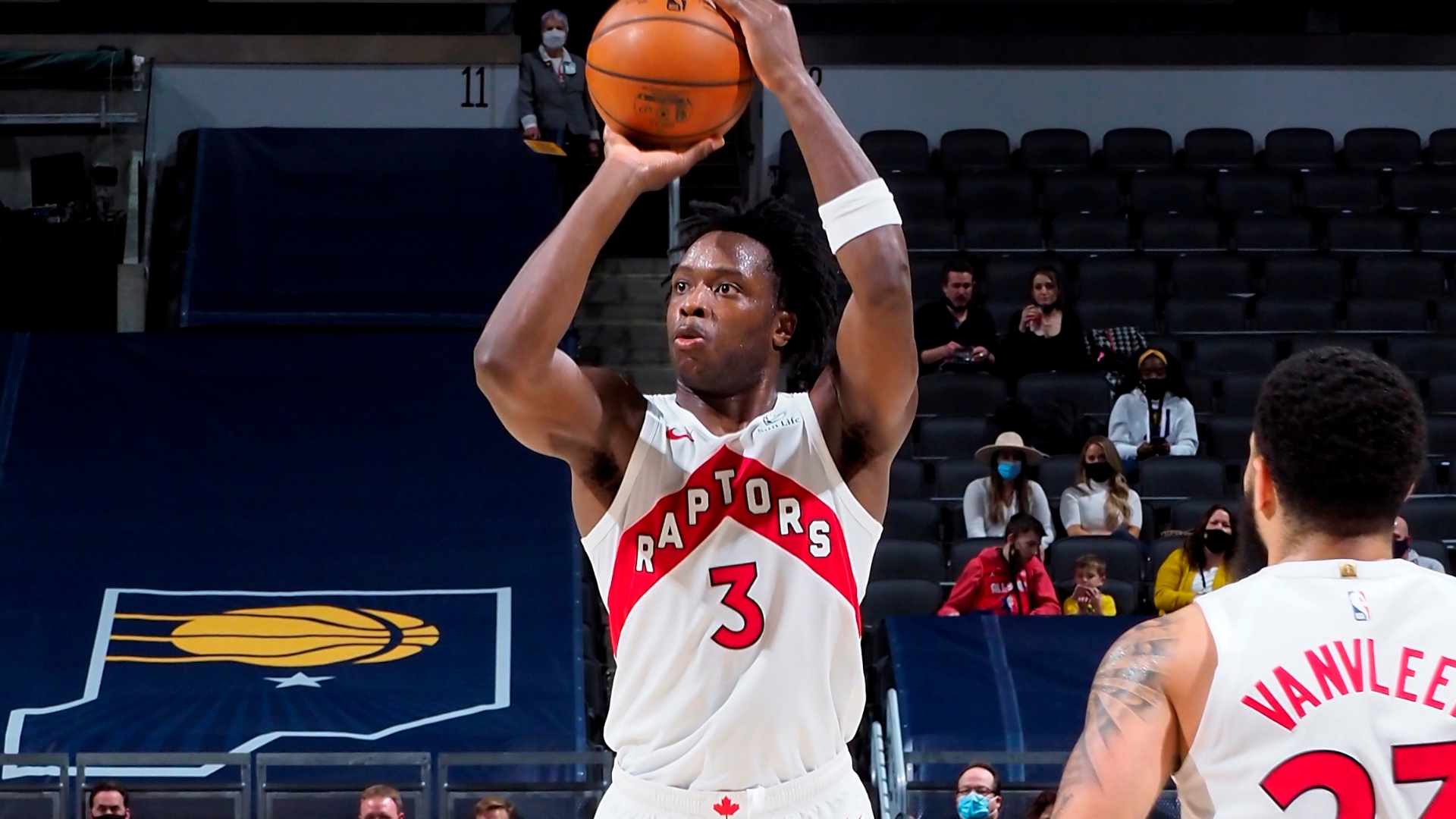 I thought 2021 would be OG's huge breakout year, but it wasn't. That means this year will be. He's improved a ton on offense since he got drafted, and he's always been an awesome defender. In 2022, OG will show everybody that he'll be in All-Star conversations for years to come.
59: Gordon Hayward (18/6/4, 48/40/84)
Hayward is a guy who can give you an efficient 20 points on any given night. His consistent scoring will be a significant part of Charlotte's play-in run (unless he gets traded, which is possible).
58: Terry Rozier III (20/5/4, 1 SPG, 45/40/85)
Terry Rozier had the best season of his career in 2021. He proved that he can be relied on for 20+ points every night. That won't change in 2022.
57: Kyle Lowry (16/4/8, 2 SPG, 45/39/86)
The greatest Raptor of all-time is on a new team for the first time since 2012. He's a great fit in Miami. He won't be relied on to score a ton, but he'll run the offense. He'll be near the top of the league in assists per game. Kyle is almost 36, but he's still a very valuable player.
56: Collin Sexton (22/3/4, 46/37/82)
Sexton is the definition of a score-first guy, which is why many believe he'd be best off in a sixth-man role (think Jordan Clarkson). But, as long as he's starting in Cleveland, it will be hard to count out his high scoring numbers.
55: LaMelo Ball (18/7/7, 1.5 SPG, 45/37/77)
LaMelo is one of the best passers in the NBA, and he's just 20 years old. The 2021 rookie of the year will score more this season, which will land him just outside of the top 50.
54: Clint Capela (14/14/1, 2 BPG, 65/0/60)
Capela is the best rebounder in the NBA. He's also an excellent rim protector and lob threat. He's the anchor of the young Hawks roster that will win a lot of games this season.
53: John Collins (18/7/1, 1 BPG, 58/40/82)
John Collins started his career as a lob threat, but he's now much more than that. He's an efficient stretch four and mid-range shot creator. He's the perfect running mate for Trae Young. He's due to break out as an All-Star very soon, but the Hawks are so stacked that I don't think it will happen this season.
52: Jerami Grant (20/6/3, 1 BPG, 45/37/85)
Even though he just broke out and became a star, Jerami will be the leader on the extremely young Pistons roster in 2022. He certainly plays like a leader. His efficiency will improve from last season as he'll have the ball in his hands a little less.
51: Michael Porter Jr. (21/8/1, 1 BPG, 52/42/80)
With Jamal Murray injured to start the season, MPJ will become Denver's second option and Jokic's number one receiver. He will score a lot because of it. His ridiculous efficiency will decrease slightly due to volume, but overall MPJ will climb up the rankings from where he was last season.
50: D'Angelo Russell (22/3/7, 1 SPG, 44/39/78)
D'Lo has become underappreciated since his days in Brooklyn. He can score with the best of them. His efficiency is great for his volume and shot difficulty. He is a top 50 player in the NBA.
49: Dejounte Murray (19/7/8, 2 SPG, 47/35/80)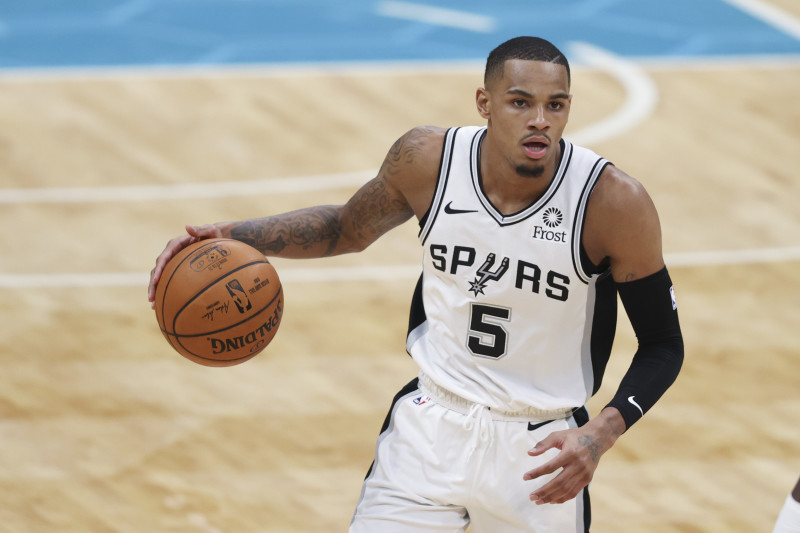 Dejounte Murray is my big breakout candidate for 2022. He's a very talented player, but he hasn't had the freedom to show that yet in his young career. With the Spurs in rebuild mode, this is his year to go crazy. I am so excited to watch Dejounte play this year. You should be too.
48: Christian Wood (22/10/1, 1.5 BPG, 53/38/65)
Although the young duo of Kevin Porter Jr. and Jalen Green may be more exciting, Christian Wood is still the best player in Houston. He grinded to get his opportunity in the league, and once he got his shot he ran away with it.
47: Draymond Green (7/8/10, 2/1, 45/30/80)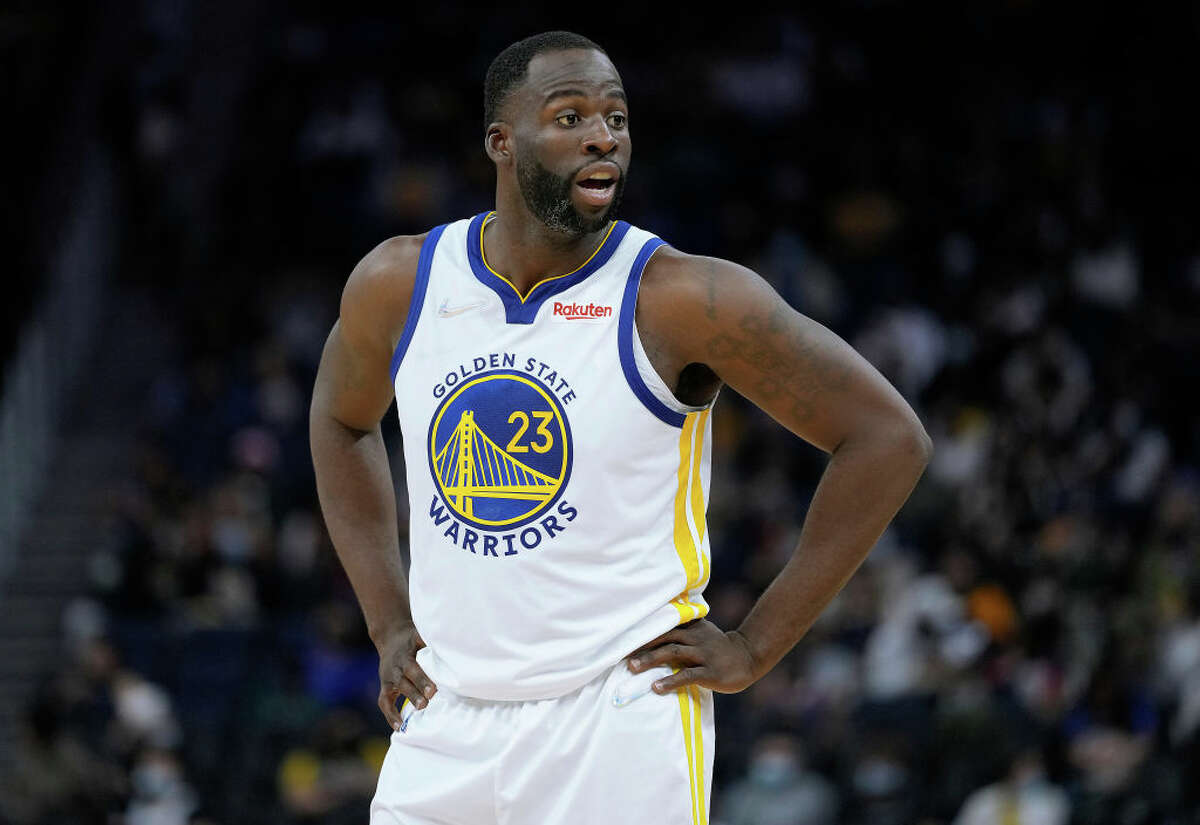 With the Warriors back in contention, Draymond will be extra motivated this season. He's definitely gonna lead the league in techinals, but he might lead the league in assists as well. Draymond is the best glue guy of all time, and he's still a top 50 player.
46: Pascal Siakam (21/7/4, 1 SPG, 46/33/83)
I am expecting (and hoping, for Pascal's sake) a partial return to form for Pascal Siakam in 2022. He won't be an All-Star, but he will play at a borderline level. He needs to prove that last season was just a fluke.
45: C.J. McCollum (23/4/5, 46/39/82)
Just like his teammate Jusuf Nurkic, C.J. McCollum has something to prove in 2022. He needs to show that he's capable of being the number two guy on a contender, or he should (and probably will) get traded.
44: Malcolm Brogdon (20/5/6, 1 SPG, 47/40/87)
Malcolm Brogdon has established himself as a top 50 player since his time in Milwaukee. He's a scorer, playmaker, and defender. With lots of mouths to feed in Indiana's starting lineup, Brogdon should return to his near 50/40/90 self with the ball in his hands less.
43: Tobias Harris (22/7/5, 1 SPG, 49/38/88)
With Ben Simmons likely headed out the door, that leaves Tobias Harris as the clear-cut second option in Philadelphia. That should lead to an increase in his scoring (and a slight decrease in his efficiency). I could see Tobi averaging near 25 until Simmons gets traded and a new player who needs shots arrives.
42: Deandre Ayton (18/12/1, 1 BPG, 60/25/79)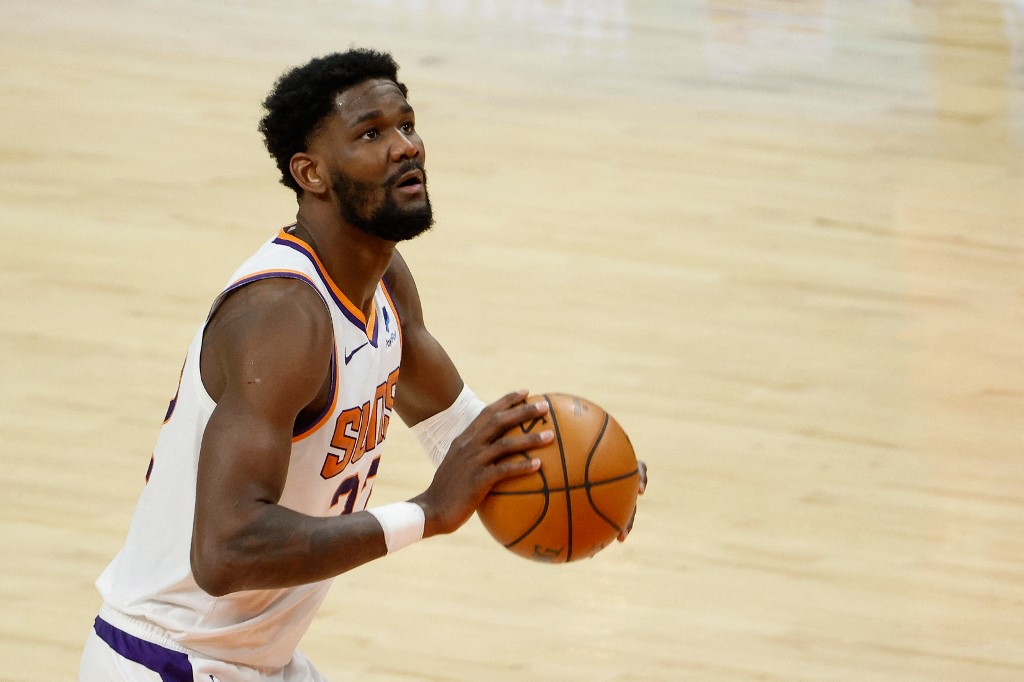 Even after an excellent playoff performance, the Suns did not give Deandre Ayton a max extension. To prove he deserves a bag, Ayton will need to play like he did in the playoffs for the whole season. I think he can do it. Pay Ayton!
41: Fred VanVleet (22/4/6, 2 SPG, 42/37/88)
The best player on the Raptors (until OG takes that mantle in the near future), Freddy VanVleet is effective on both ends of the floor. I don't expect significant improvement or regression from him in 2022, so he'll land around where he did in 2021.
40: Jrue Holiday (18/4/7, 2 SPG, 48/38/77)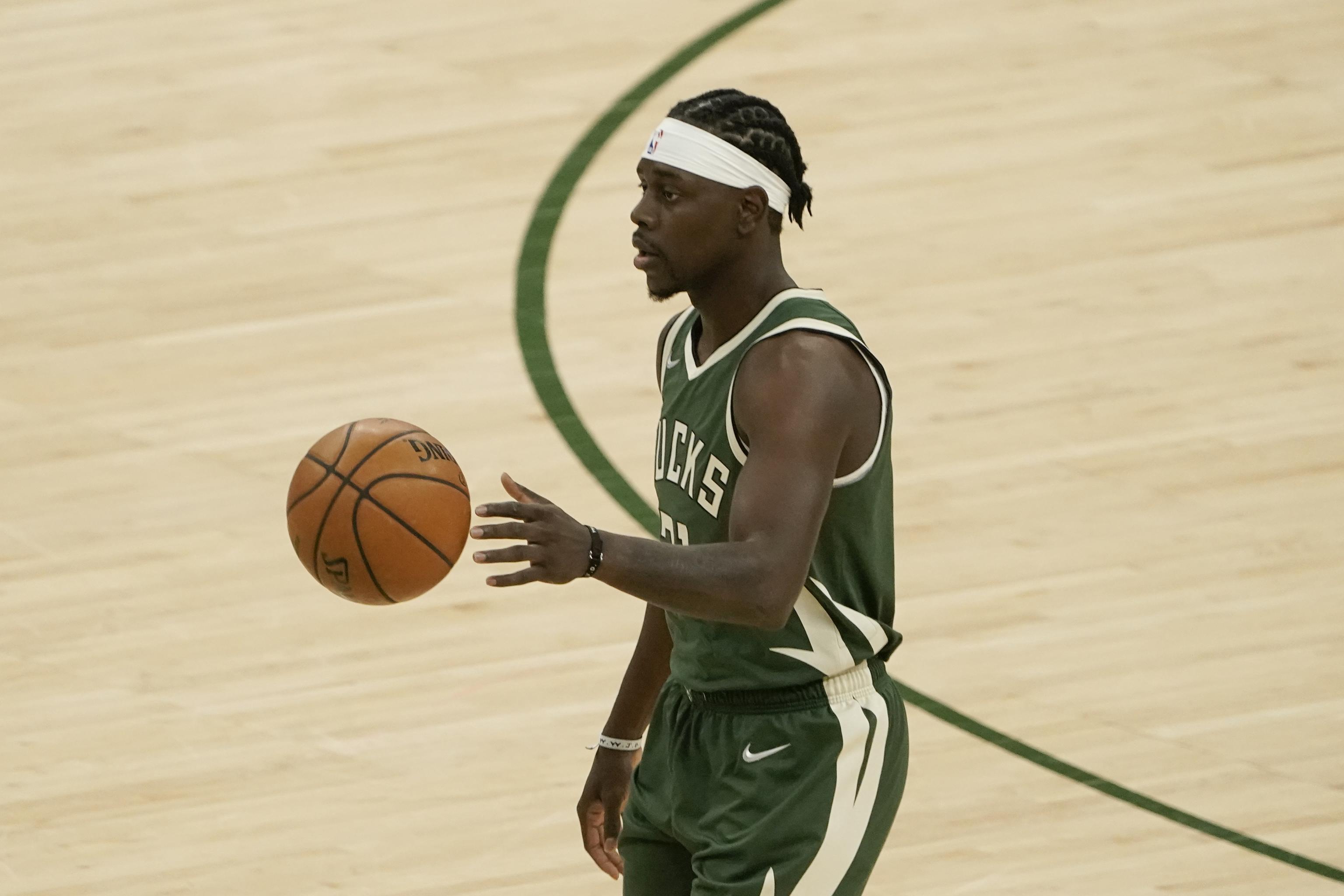 The best guard defender in the NBA, Jrue Holiday is a top 40 player. I think his scoring will be a little down this season, but his assist numbers should go up (he averaged 9 per game in the Bucks' championship run).
39: DeMar DeRozan (20/5/8, 50/30/86)
DeMar is going from the best player on his team to the third best, but his numbers won't decline much. He averaged 7 assists per game in San Antonio, so with players like LaVine and Vucevic to pass to his assist numbers will increase. His efficiency should also increase as his volume decreases a little. DeMar is still very disrespected. He's going to have a great season for a Bulls team looking to compete.
38: Ben Simmons (15/8/9, 2 SPG, 54/30/60)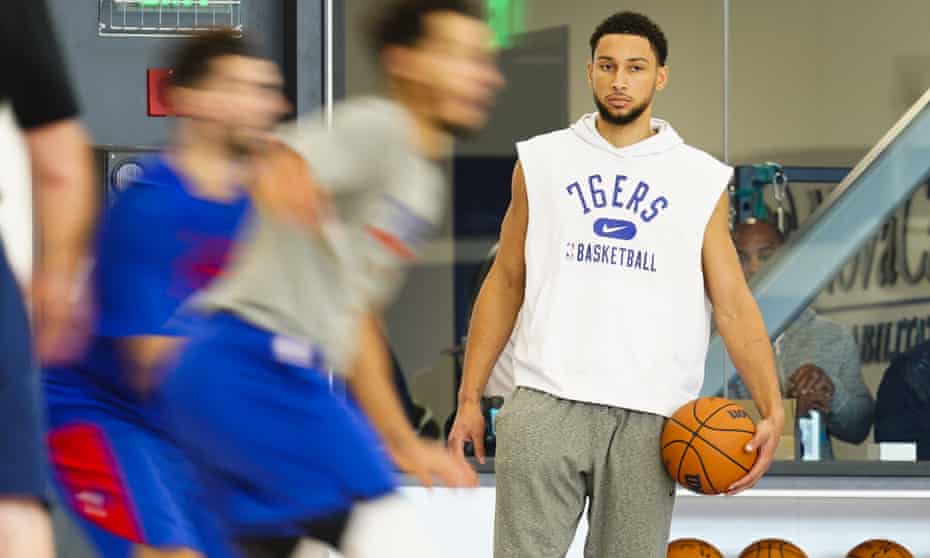 Wherever Ben Simmons plays this season, he will still be a top 40 player (as long as he is willing to shoot the ball at the hoop). He is a top five defender in the league, and an elite passer. It will be interesting to see how long Ben stays in Philadelphia before he is traded.
37: Jamal Murray (23/4/5, 1 SPG, 46/40/88)
Jamal is out for an indefinite amount of time to start the season, but he makes my list because he will return. When he comes back, he will be the same high-level scorer he was in 2021. To outperform this prediction, he'll need to help the Nuggets make a deep playoff run.
36: Russell Westbrook (19/9/9, 1 SPG, 45/34/68)
Now that he's teammates with LeBron and AD, Russ won't average his usual triple double. And if I'm being 100% honest, his historic stuffing of the stat sheet is most of the reason I had him in the top 25 for the 2021 season. Now, in an insanely talented league, Russ will fall to the lowest ranking he's had in a long time.
35: Rudy Gobert (15/13/1, 2.5 BPG, 65/15/63)
The three DPOY awards Gobert has won speak for themselves. He's an all-time great rim protector. He's also one of the best rebounders in the league. However, with all the talent in the league, it's gotten to the point where he's going to need to do more on offense if he wants to stay in the top 30. 
34: Nikola Vucevic (24/11/4, 50/41/83)
Vucevic's offensive game is great for the current NBA where shooting is everything. The Bulls aren't very deep at the center position, so he's going to get a lot of minutes this year. He has a good shot at making his third All-Star game if the Bulls perform up to expectations.
33: Klay Thompson (20/4/3, 50/41/80)
After over 24 months, Klay Thompson is finally back and playing basketball again. I'm excited about it, because I've missed his impeccable shooting form. It's a lot of fun to watch. Even if the injuries hurt Klay's defense a little, it can't hurt his shooting. When he returns in December, the Warriors are going to look very scary.
32: Brandon Ingram (26/5/4, 47/39/88)
I typically don't like to use the word underrated when talking about All-Stars, but I think I have to in order to describe Ingram. I'm all over NBA social media, and I rarely see anybody talking about him. He's a bonafide bucket getter. With Zion out to start the season, Ingram will get hot and never look back.
31: Julius Randle (22/9/6, 46/40/79)
After his breakout season, fans are now questioning if Julius can do it again. I don't think his 2021 performance was a fluke, I think people are focusing too much on the real fluke (his playoff performance against Atlanta). While he probably won't make an All-NBA team, Julius will likely make another All-Star game in 2022.
30: Ja Morant (21/4/7, 1 SPG, 46/35/75)
Although a 2022 All-Star appearance is unlikely for Ja, this will be his first season of true stardom. He's shown he can lead a team to winning in his first two seasons. This season, Ja Morant will jump out of the gym and into the top 30.
29: Khris Middleton (22/5/6, 1 SPG, 52/42/90)
Kash Money Middleton has nothing left to prove to anybody who's hated on him in the past. The only thing I'd love to see from him is a little more consistency. I think this is the year he does that, and he'll join the exclusive 50/40/90 club. After all, his teammate is the most dominant force in basketball. Giannis will draw multiple defenders every play, and that will create lots of efficienct looks for Khris.
 28: Domantas Sabonis (20/13/7, 1 SPG, 55/34/73)
Sabonis has cemented himself as an All-Star level player. It's crazy to me that he's only 25, because that means he still has lots of time to grow. He's already a high-level post scorer, passer, and rebounder, and if he adds a consistent three ball Sabonis could become a top 25 player.
27: Bam Adebayo (18/10/4, 1/1.5, 58/30/79)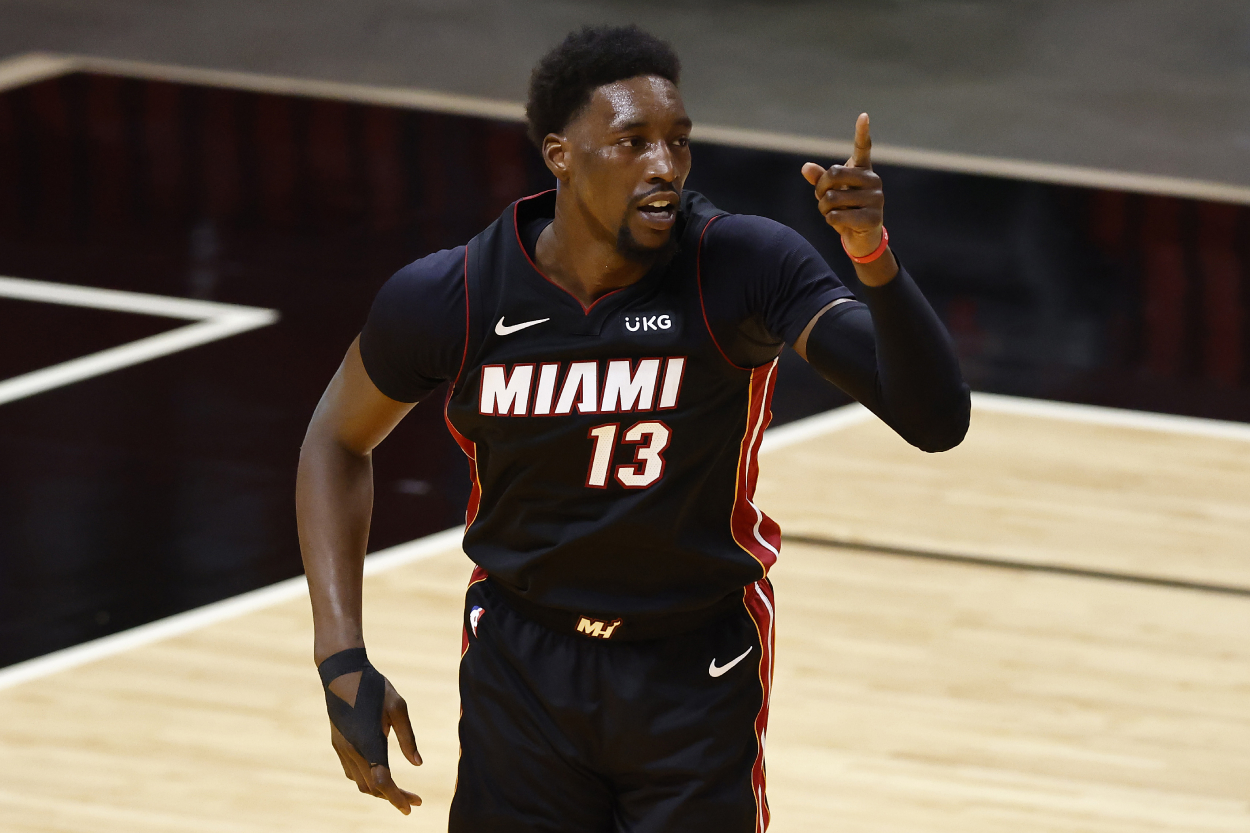 Bam was the last Giannis stopper until Giannis walked over him in the first round of the playoffs. That doesn't take away from Bam's overall defensive ability. He has a shot at winning DPOY this season. If that doesn't happen, he'll win it in the near future. The word I would use to describe Bam's overall game is versatile. His defensive, post scoring, and passing abilities keep him hovering around the top 25.
26: De'Aaron Fox (27/4/6, 1.5 SPG, 49/35/73)
2021 was a huge season for De'Aaron, and 2022 will be a massive one. He's so talented. I wish the Kings were better so De'Aaron could get more attention. He deserves it.
25: Shai Gilgeous-Alexander (26/5/6, 1 SPG, 51/41/81)
Just like Fox, Shai is a young guard who performed very well in 2021 and will build off that in 2022. Shai led a roster of Lu Dort, Darius Bazley, and a rag-tag collection of young guys to a 24-26 record before an injury sidelined him for the rest of the year. That's wild, and it shows how talented he is. Shai will become a top 25 player for the first time in his career this season, and it won't be long before he's top 15.
24: Zach LaVine (27/5/5, 51/43/86)
When you google bucket, you are shown pictures of buckets. If you squint hard enough, though, you'll see Zach LaVine. The shooting splits Zach puts up despite his volume and shot difficulty is just ridiculous (42% from three on 8 attempts per game in 2021. Just half of those were assisted). People called Zach an empty stat guy for a while. With the Bulls poised to make the playoffs, he'll prove those casuals wrong.
23: Jaylen Brown (27/6/4, 1 SPG, 47/39/77)
With Kemba Walker gone, Jaylen is now the unquestioned number two guy in Boston. He's gonna have a huge scoring year, and he'll be locking up the best wings in the league. This will likely be the last season where he falls outside of the top 20 for the next 5+ years.
22: Zion Williamson (26/7/4, 60/30/70)
It's no secret that Zion is a dominant force in the paint. It can be questioned if Zion can stay healthy. I don't think so. I hope that's not his narrative for his whole career, because that would take away from the special talent he is.
21: Chris Paul (16/4/10, 1.5 SPG, 50/38/90)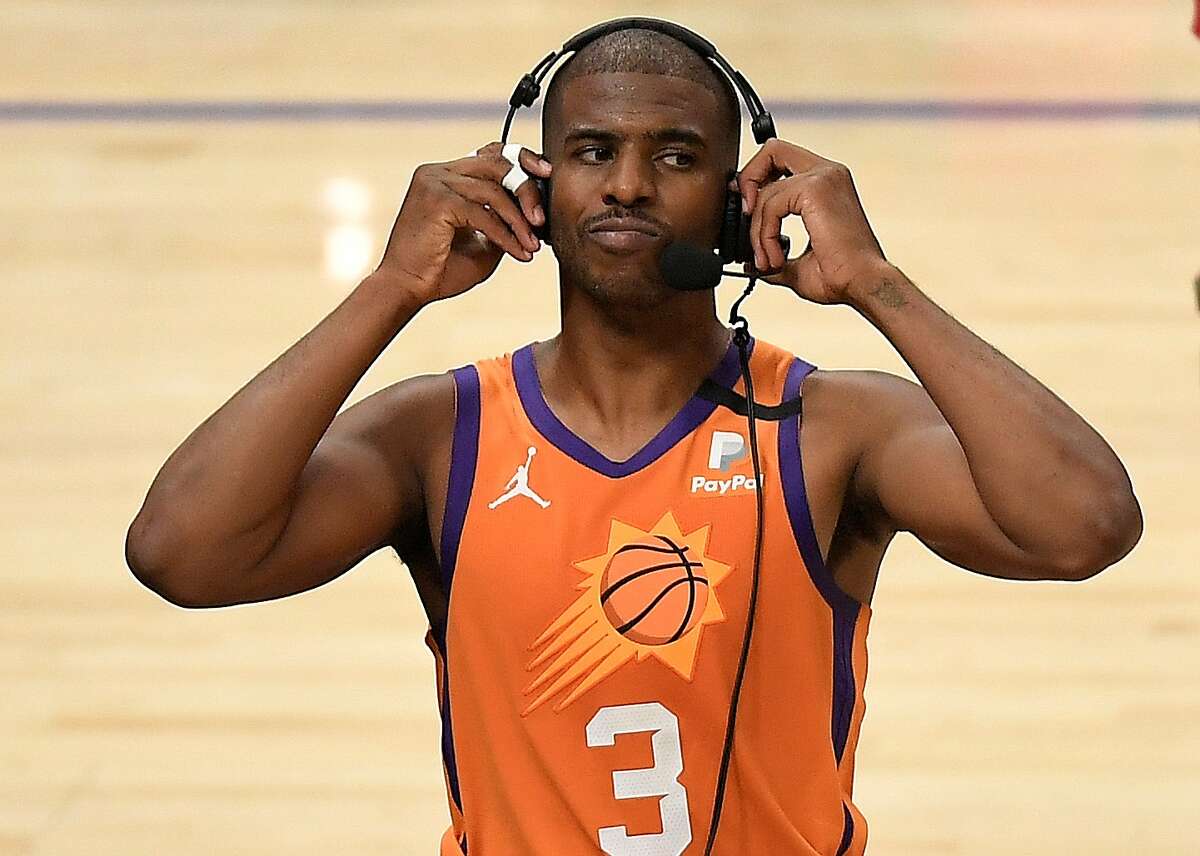 CP3's longevity is almost as impressive as LeBron's. Both are 36 years old, but unlike LeBron, CP3 is not an athletic freak. He's a man who's only an inch taller than me when he's wearing shoes. The crazy part is that he drops tough buckets over any player in his way, regardless of their height. He'll take more of a playmaking role in 2022, though, and lead the Suns to the top seed in the West.
20: Bradley Beal (32/5/5, 1 SPG, 44/34/87)
Bradley Beal has shown nothing but loyalty to the Wizards. In return, the Wizards have done nothing besides give him money. They haven't been a legitimate competitive team since before John Wall got injured. Although he'll receive some help from Dinwiddie, Hachimura, and Kuzma, Beal will be carrying a massive load next season. Free Bradley Beal.
19: Karl-Anthony Towns (26/11/5, 1 BPG, 51/40/87)
I'm tired of people sleeping on KAT. He is the third best center in the NBA, and there is zero debate about it. I say this every time I talk about him, but KAT is the best big-man shooter ever. As long as he's healthy, KAT will have the best season of his career in 2022.
18: Trae Young (24/3/9, 45/36/90)
Only 24 PPG for Trae? What? Well, last season, he scored 8 points a game off free throws. To get those free throws, he did a "bit" of the flopping the league is cutting down on this year. He can make those points back up, but with so many offensive weapons around him he won't be able to average more than 24.
17: Jimmy Butler (17/6/9, 2 SPG, 50/28/85)
Jimmy is one of the best leaders in the NBA, and he'll prove that in 2022. Jimmy will be very content passing to Lowry, Bam, Duncan, and Tyler in Miami, which will result in his scoring numbers dropping a little. He's still a top 20 guy in the league, even if his stats don't suggest it.
(Alright. For the most part, I'm keeping the blurbs short from now on. I shouldn't have to explain much about my placements.)
16: Devin Booker (27/4/5, 49/35/89)
Fueled by the feeling of defeat, Booker will take off and have the best season of his career. He still won't be better than Donovan Mitchell.
15: Kyrie Irving (28/5/6, 1.5 SPG, 49/40/91)
Although I have no clue what he's doing at the moment, I do know that Kyrie will play somewhere at some point this season (or at least I hope so. It would be a fiasco if there was Kyrie chatter all season). When he plays, he'll keep his spot in the top 15. 
14: Donovan Mitchell (27/4/5, 44/39/85)
Donovan Mitchell is a winning player, and a top three shooting guard. That's why he's a top 15 player in the league.
13: Paul George (26/6/6, 1.5 SPG, 45/39/87)
My dark horse pick for MVP, Paul George is going to have a magnificent season. He's gonna put the Pandemic P memes to bed forever (actually, that's probably not possible).
12: Kawhi Leonard (24/5/5, 1 SPG, 49/37/88)
Because of the chance Kawhi will return at some point late in the regular season, I had to put him on this list somewhere. I couldn't put him top 10, but if he comes back and leads the Clippers to the Finals or something then he will be. We'll just see what happens, I guess.
11: Joel Embiid (29/12/4, 1/1.5, 52/37/85)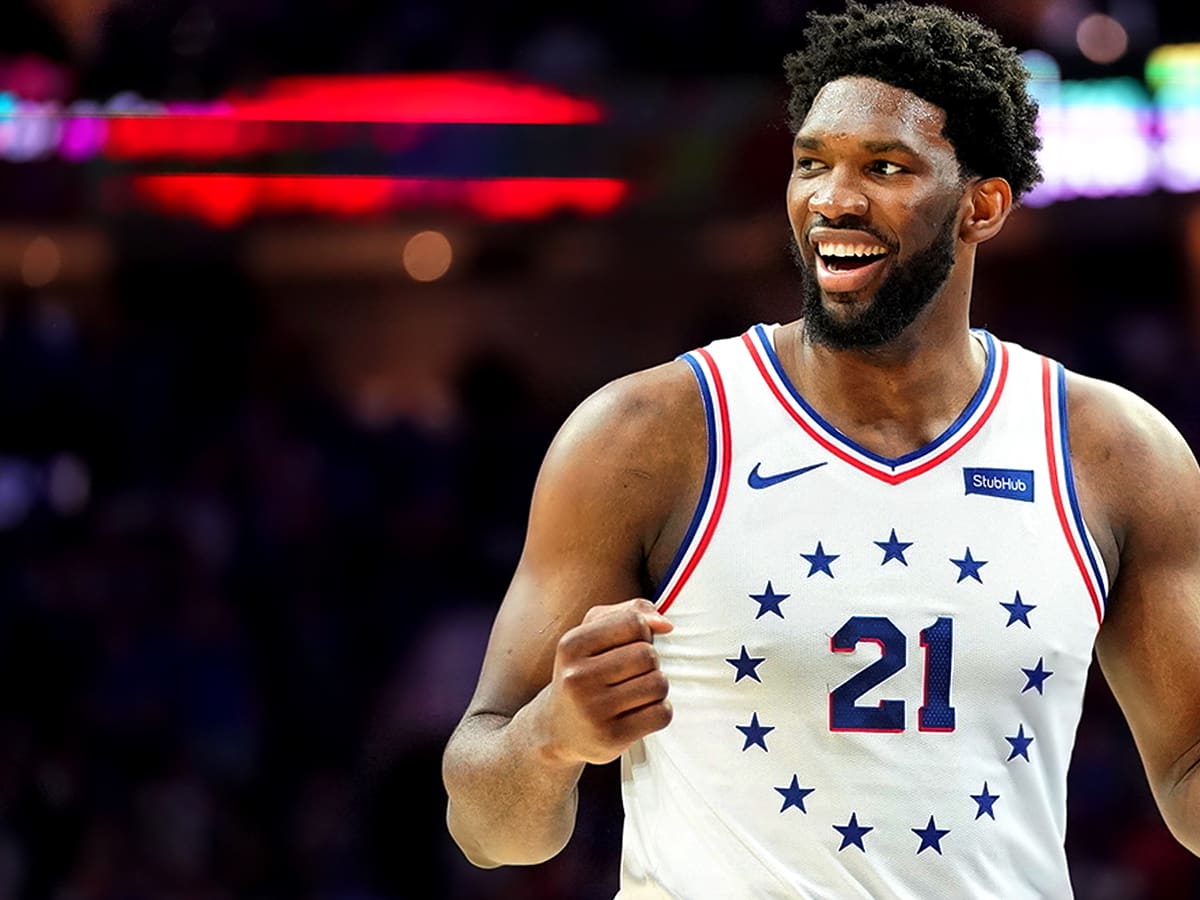 Until the Ben Simmons situation is wrapped up, Joel Embiid will put Philly on his back. This will be a crazy statistical season for the 2021 MVP runner-up.
10: Anthony Davis (27/9/2, 1/1.5, 50/30/78)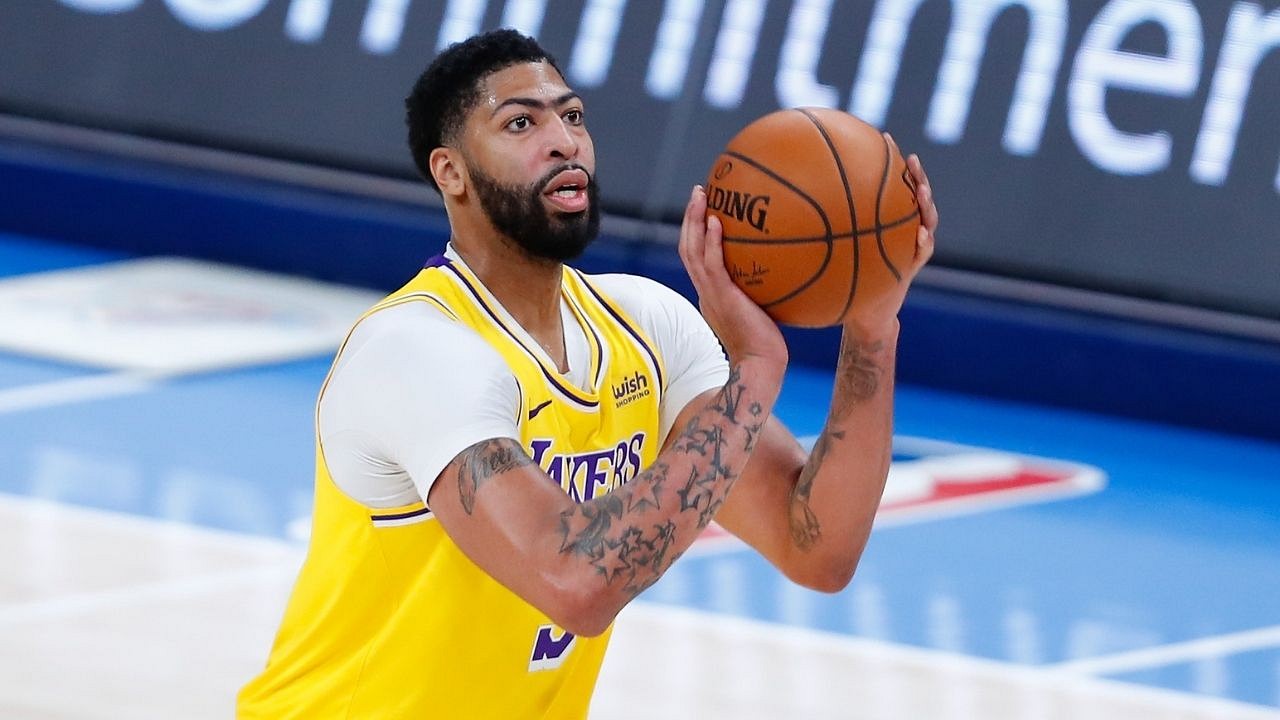 Assuming health, this will be a bounce-back season in a big way for AD. He'll have two of the league's best playmakers dumping him the ball in the paint, where he can dominate anybody if he feels like it. He's also my pick for DPOY.
9: Jayson Tatum (30/7/5, 1 SPG, 45/37/85)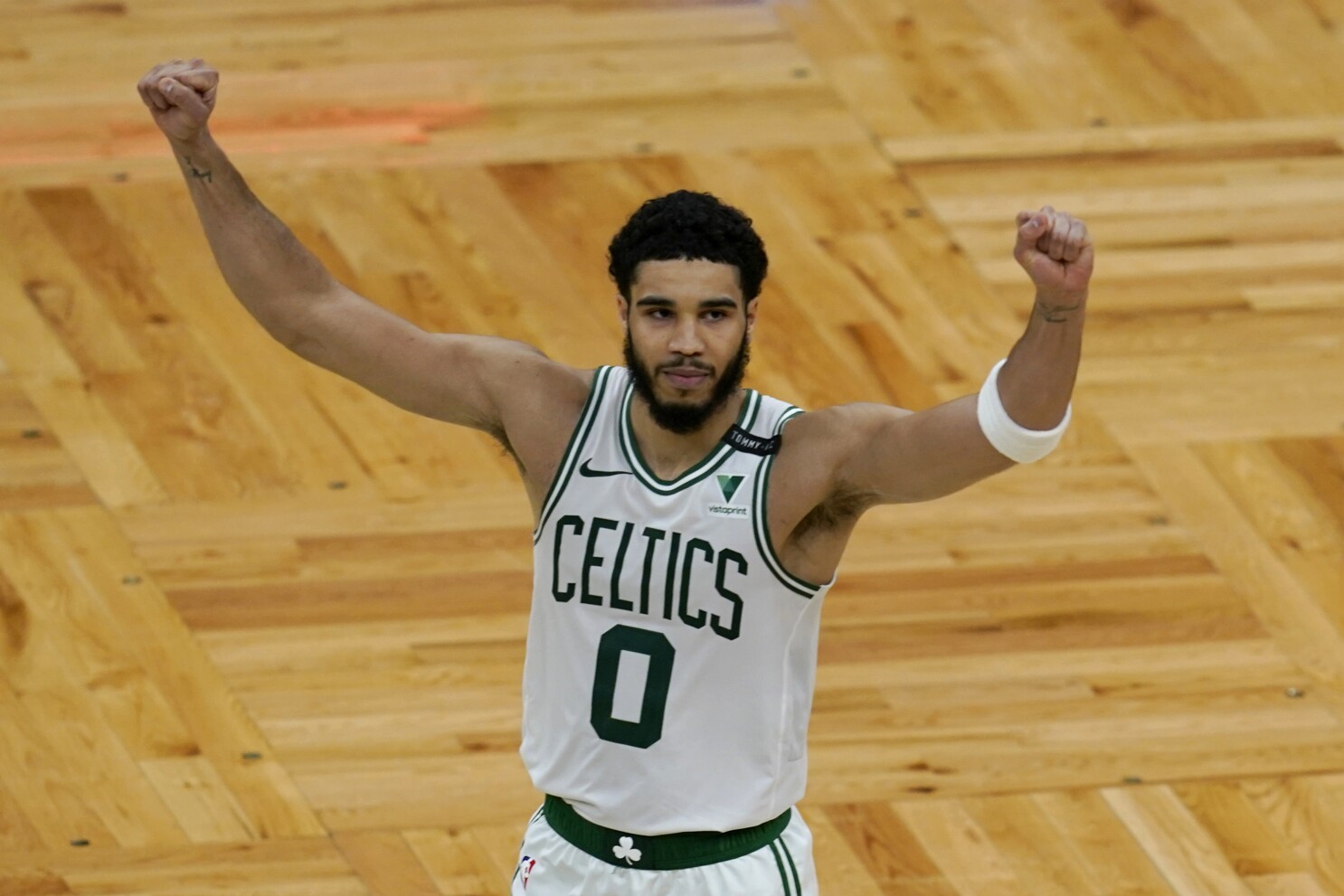 2021 is the year where Tatum will blossom into a true superstar. It's wild to say I think he'll be better than Anthony Davis, but it was bound to happen at some point. Jayson Tatum is really that dude.
8: Nikola Jokic (27/11/11, 54/38/87)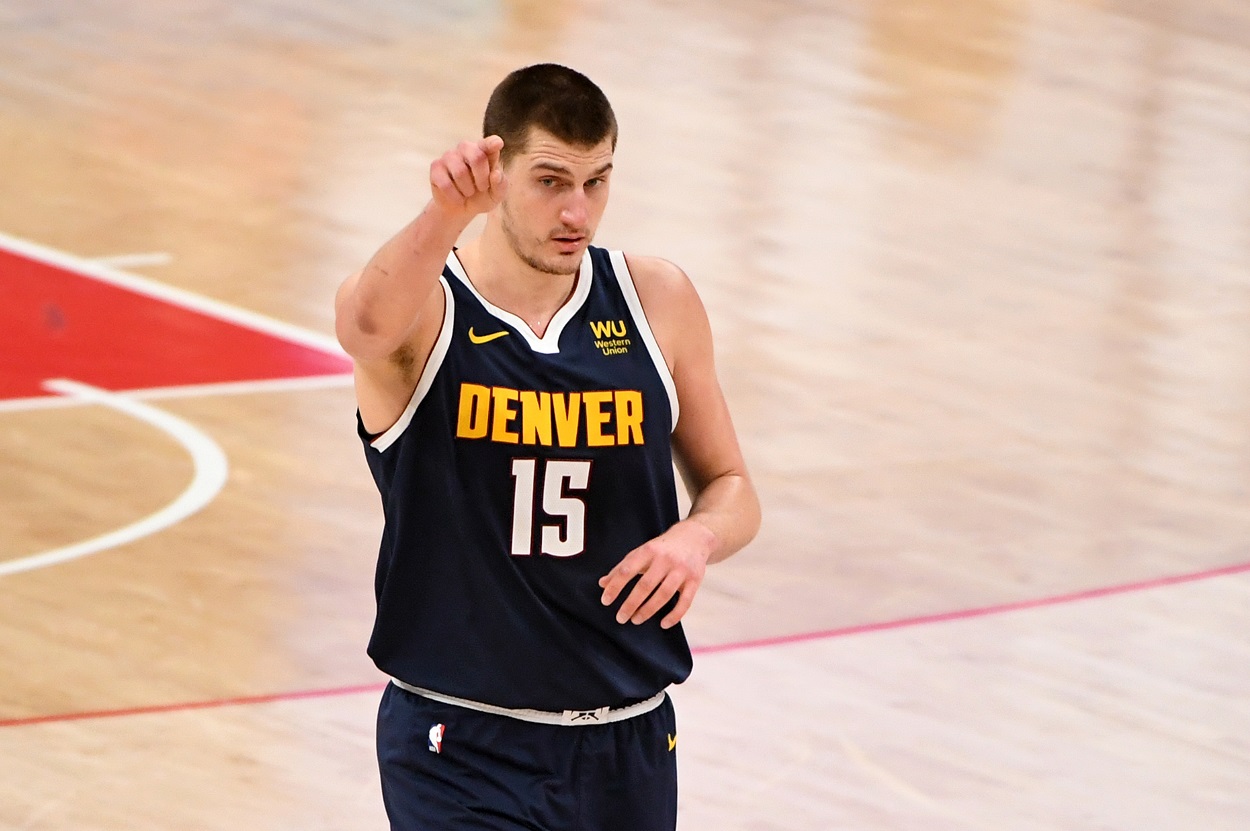 The reigning MVP is going to have an absurd statistical season with Jamal Murray injured. Averaging a triple-double is very likely for the Joker.
7: Damian Lillard (31/4/8, 44/40/92)
Dame pours his heart and soul into the Blazers every season. 2022 will be no different. He's incredible on the offensive end, and averaging an efficient 30 will obviously give him a top 10 spot.
6: Luka Doncic (29/9/10, 46/35/74)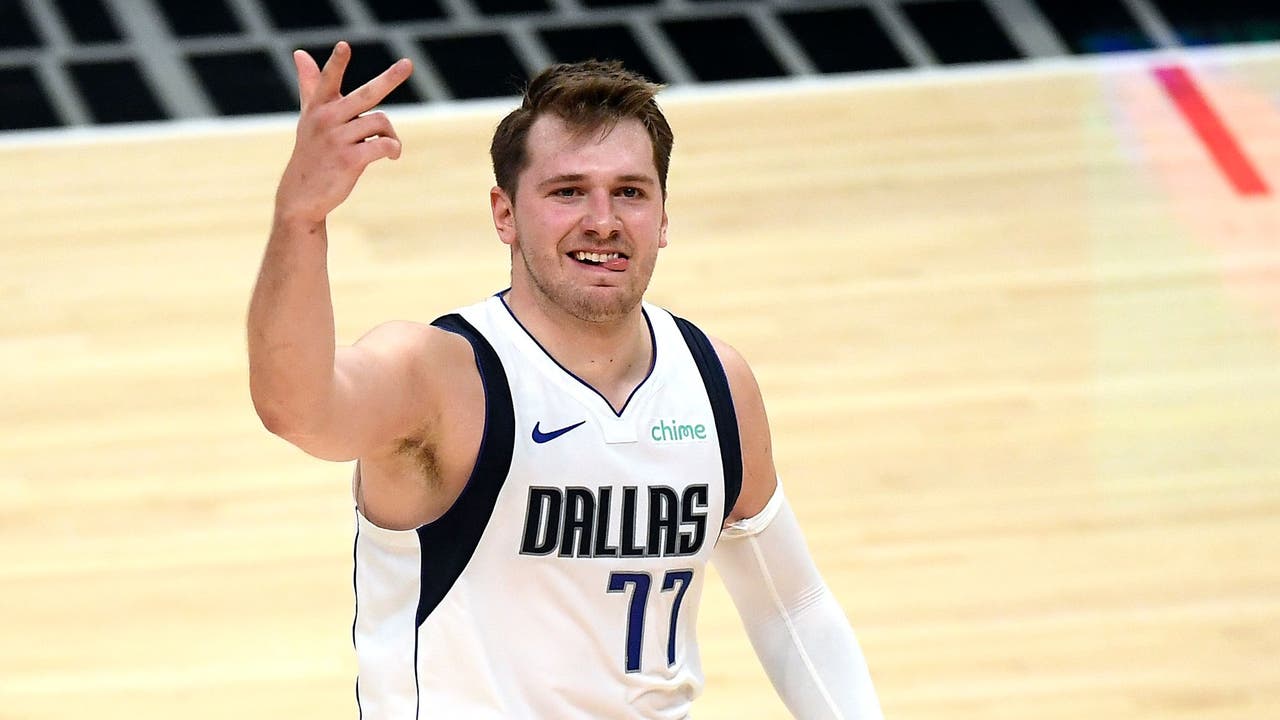 Luka is special. It's too bad he doesn't have a better team around him, because he should be competing for a championship this season.
5: James Harden (27/9/11, 45/34/88)
Harden is up there with the best scorers ever, and showcased his playmaking in 2021. He'll be top 5 in 2022 with Kawhi injured.
4: Stephen Curry (29/4/7, 50/41/93)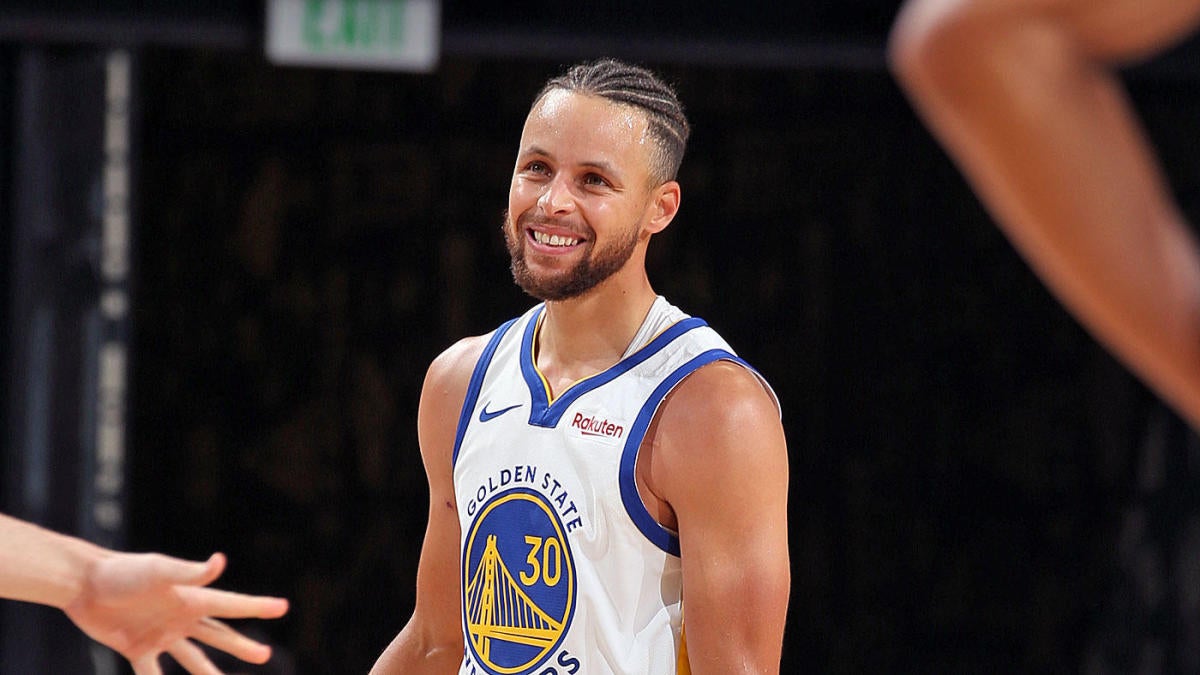 Steph just had arguably the best season of his career, and he's the only guy to ever win a unanimous MVP. I think he's gonna be better this year, and he'll be firmly in the MVP race.
3: LeBron James (25/7/10, 49/39/68)
LeBron James is a top 2 player to ever pick up a basketball. It's unbelievable that he's almost 37 years old and still a top 3 player. Appreciate LeBron before he retires, please.
2: Kevin Durant (29/7/6, 55/40/89)
To put it simply, Kevin Wayne Durant is very hard to guard.
1: Giannis Antetokunmpo (29/11/6, 1.5/2, 58/32/70)
That's right. In 2022, Giannis Antetokounmpo will be the best basketball player in the world. I couldn't live with myself if I predicted anything else after I gave KD the number one spot on my 2021 list.