I'm an NBA draft casual.
I've said this before, and it's true. I don't pay much attention to college basketball except for during March Madness (I predicted Baylor winning it all, by the way), so therefore I don't have a ton of knowledge on incoming NBA rookies heading into the draft.

Now that we're around thirty games into the NBA season and I've seen these guys play, I have formed legitimate opinions on them (rather than opinions mostly based on outside sources). Because of this, I figured I should revisit my draft grades and make some updates. Let's get into it!
Atlanta Hawks
Draftees: Jalen Johnson (20th), Sharife Cooper (48th)
Jalen Johnson is more of a project than other first-round picks, and I didn't think the Hawks should have selected a player like that. I was right. The Hawks are one of the deeper teams in the league, and their collection of talented guys has kept Jalen from getting the minutes he needs to grow as a player. He's shown flashes of what he can become in Summer League and the G-League, but he won't be able to reach his full potential as long as he doesn't touch the court.
Sharife Cooper has played just 11 minutes across 5 games so far this season. Overall, Atlanta's draft grade will take a hit. Not because they didn't select good players, but because the good players they selected are rotting away on the bench.
Original Grade: B-
New Grade: C+
Boston Celtics
Draftee: Juhann Begarin (45th)
Considering he was the 45th pick, I thought Begarin had some solid upside (especially as a defender). However, he did not come over to the NBA, so the Celtics have no rookies.
Original Grade: B
New Grade: N/A
Brooklyn Nets
Draftees: Cam Thomas (27th), Day'Ron Sharpe (29th), Kessler Edwards (44th)
I still believe Cam Thomas at 27th was a steal. Although his overall efficiency hasn't been ideal so far, he's averaging 9.8 PPG on 45% shooting across his last 10 games (including an 18 point, 7/15 shooting performance against Houston). The scoring upside Cam has is through the roof and it's wild that he ended up with Brooklyn.
Day'Ron Sharpe has received very little opportunity, but his per 36 averages of 21 PPG (53% FG), 17 RPG, 2 SPG, and 2 BPG suggest he can be a productive backup (or more) in the future.
Kessler Edwards has had multiple solid performances for the undermanned Nets, and it looks like he can be a rotational piece for a good team one day.
Original Grade: B+
New Grade: A-
Charlotte Hornets
Draftees: James Bouknight (11th), Kai Jones (19th), JT Thor (37th), Scottie Lewis (56th)
James Bouknight has shown the same upside I thought he would. It took him a while to enter Charlotte's rotation, but he has now and he's playing well. His highlight game so far was a 24 point, 6 three performance in a win against Sacramento. Although his uptick in minutes likely has to do with Charlotte's health-and-safety outbreak sidelining rotational players, I expect that Bouknight will continue to get meaningful minutes once everybody returns.
Kai Jones has struggled to see the court for a team that lacks talent at the center position. Not sure why that is.
JT Thor has seen the court a little, and he is very raw. So far he hasn't been one of the best second-round picks like I thought he would.
Original Grade: A
New Grade: B+
Chicago Bulls
Draftee: Ayo Dosunmu (38th)
"Maybe this is me being a draft casual, but I was surprised Ayo didn't go in the first round. He was a top player in college, and nothing I saw suggested he couldn't be good in the NBA."
That's what I said in my original draft grades article about Ayo Dosunmu. I was totally right. He's been an efficient driver and shooter, as he's shooting 50% from the field and 41% from three. He's having an impact off the bench for a playoff team, and he was an excellent selection in the second round.
Original Grade: B+
New Grade: A
Cleveland Cavaliers
Draftee: Evan Mobley (3rd)
Evan Mobley is a generational talent. I don't know the last time a rookie has had this big of an impact on defense. If he keeps up this level of rim protection, he'll make at least five All-Defense teams in his career. As good as a few others have been, Mobley is my pick for Rookie of the Year and it isn't close.
Original Grade: A
New Grade: A+
Denver Nuggets
Draftee: Bones Hyland (26th)
Although he's been inconsistent (which isn't unusual for a rookie), Bones has shown off his scoring ability and has been a valuable bench piece for Denver. He's been about as good as I thought he would be.
Original Grade/New Grade: B+
Detroit Pistons
Draftees: Cade Cunningham (1st), Isaiah Livers (42nd), Luka Garza (52nd)
An early injury caused a slow start for Cade, but since then he's been everything Detroit fans could hope for. He affects the game in so many different ways, and that's why he was picked first overall. Cade is the future of the Detroit Pistons.
Luka Garza had a quality summer league which earned him a full NBA contract, and he's played some productive minutes off the bench for the Pistons.
Original Grade: A half a plus
New Grade: A+
Golden State Warriors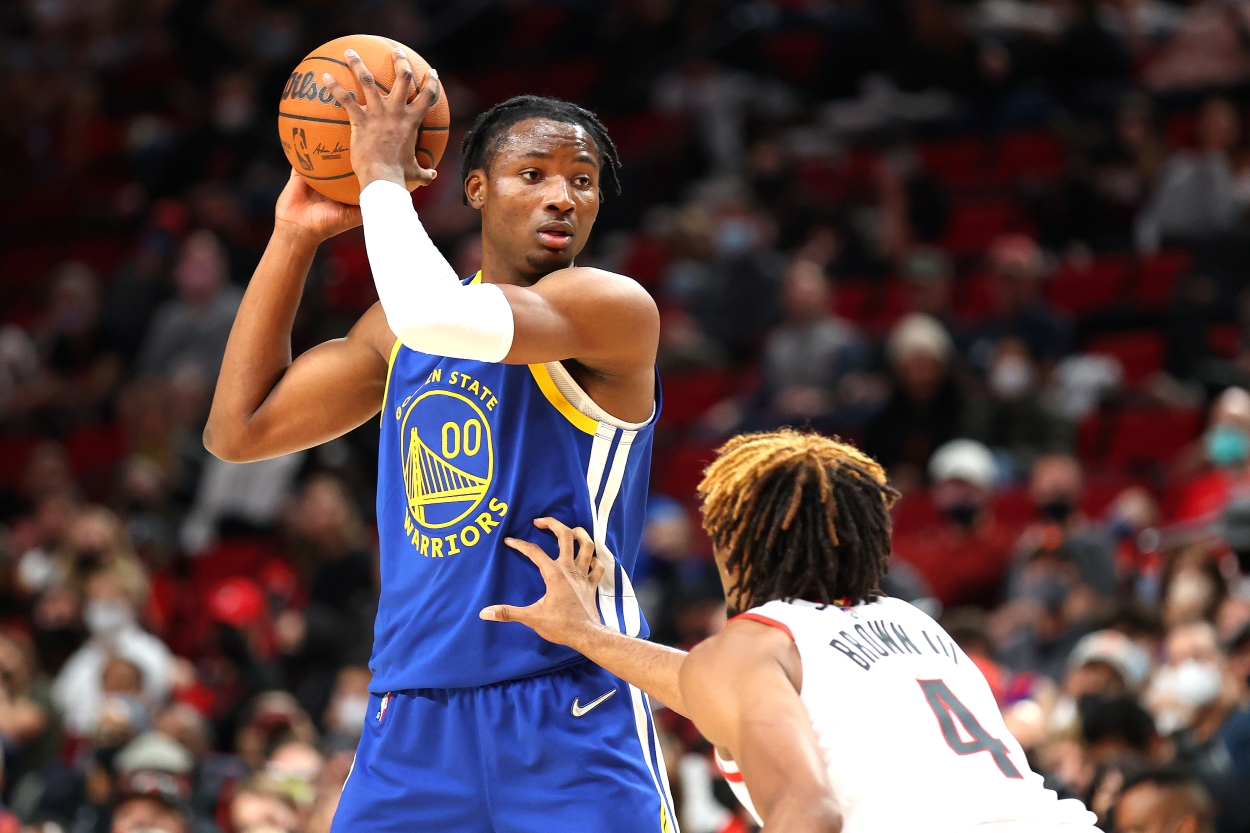 Draftees: Jonathan Kuminga (7th), Moses Moody (14th)
Kuminga's athleticism stands out, but his lack of shooting has kept him from earning consistent minutes on a deep Warriors roster. I was worried about his playing time after he got drafted to Golden State, and if he doesn't get the minutes he needs this season then we may never see the top-five talent he possesses. (Or maybe I'm overreacting. He's only 19.)
The more NBA-ready young Warrior, Moses Moody, has struggled to be productive at all in the few minutes he has earned so far. He hasn't made the instant impact I thought he would.
Original Grade: A
New Grade: B
Houston Rockets
Draftees: Jalen Green (2nd), Alperen Sengun (16th), Usman Garuba (23rd), Josh Christopher (24th)
Among the 250 total players that qualify, Jalen Green is the worst player in the NBA according to FiveThirtyEight's RAPTOR stat. While he has had some good scoring games and some flashy dunks, he's had little to no impact on winning. While it may just be a coincidence that Houston's winning streak came during his injury, that doesn't change the fact that Jalen's play so far as a rookie has been incredibly inefficient. He can still be a star one day, but he needs to step it up.
Alperen Sengun has been solid. He's rebounding, scoring efficiently, and passing the ball well. Josh Christopher has provided some nice scoring off the bench, shooting a very efficient 49% from the field and 46% from three.
The Rockets would love to have Evan Mobley right now.
Original Grade: A-
New Grade: B+
Indiana Pacers
Draftees: Chris Duarte (13th), Isaiah Jackson (22nd)
After a very hot start to the season, Duarte has cooled down a little. He's made a big impression, though, because the Pacers are now looking to trade Caris LeVert to open up more playing time for him. He's a rookie scoring with the confidence of a star, and that's how you know he will have a long NBA career.
Isaiah Jackson has rarely touched the court so far, but when one of Myles Turner and Domantas Sabonis gets traded he'll get the chance to show what he can do.
Original Grade: B+
New Grade: A-
Los Angeles Clippers
Draftees: Keon Johnson (21st), Jason Preston (33rd), Brandon Boston Jr. (51st)
Keon Johnson has played just 23 minutes so far, and Jason Preston hasn't played at all due to an injury. I think they'll be able to contribute in the NBA, but it's hard to tell how much when they haven't played.
Brandon Boston's college inconsistency has carried over to the NBA, but when he's been hot he's looked like the steal of the draft. He's shooting with confidence, and that's led to performances like his 27 point, 5 3PM game against the Celtics. It looks like Boston will be able to contribute in the league for seasons to come.
I'm giving the Clippers a higher grade because Johnson and Preston have done nothing to lower the grade, while Boston is outperforming expectations and raising the grade.
Original Grade: B
New Grade: B+
Los Angeles Lakers
Rookie: Austin Reaves (Undrafted)
The Lakers didn't have any draft picks, but Austin Reaves has been an excellent pickup. He knows his role and plays it to a tee. He hits his shots and plays defense. He even hit a game-winner in overtime on national TV. Props to Rob Pelinka for signing Reaves after the draft.
Grade: A-
Memphis Grizzlies
Draftees: Ziaire Williams (10th), Santi Aldama (30th)
Ziaire Williams has been somewhat of a non-factor so far. He barely contributes in every statistical category. His 56% on two-pointers is solid, but he takes so many threes (and misses so many. 25% from deep so far) that his overall field goal percentage is straight-up bad (35%). He's got a lot of time to grow, but so far he hasn't looked like a top-ten pick.
Santi Aldama has had a few solid games, including an 18 point, 10 rebound performance that won him a Bench Mob Player of the Day.
Original Grade: C+
New Grade: C-
Milwaukee Bucks
Draftees: Sandro Mamukelashvili (54th), Georgios Kalaitzakis (60th)
My boy Mamu has been pretty solid so far. He's contributed off the bench in multiple games, including an 8 point, 10 rebound performance against Toronto and a 12 point, 2 3PM performance in his second NBA game. I still love his skill set, and he's going to be a valuable backup big (at the minimum) for a long time.
Kalaitzakis is very raw, and after Milwaukee waived him it seems like he could be out of the league for good. He'll probably dominate overseas though.
Original Grade/New Grade: B+
New York Knicks
Draftees: Quentin Grimes (25th), Miles McBride (36th), Jericho Sims (58th)
Quentin Grimes is definitely a first-round talent. He hasn't gotten a ton of minutes this season, but when he's played, he's balled up. He's shooting an insane 47% from deep, which would be second in the league if he qualified. He even hit a Knick-rookie record 7 triples against my Bucks.
Miles McBride is a baller, and his 15 point, 9 assist, 4 steal performance against Houston proves that. I wish he was on a team where he could get more minutes (I also wish he was on the Bucks).
Original Grade: B+
New Grade: A-
New Orleans Pelicans
Draftees: Trey Murphy III (17th), Herb Jones (35th)
Trey Murphy has shot the ball decently well so far (37% from deep on 3 attempts per game), but he's been inconsistent. Once he finds his rhythm, we'll see the high-level 3&D player he's supposed to be.
Herb Jones, my favorite Pelican and one of my favorite rookies, has been the biggest surprise of this draft (in my opinion, of course). I knew very little about him prior to this season, but he's come out of the gates as one of the league's most impactful defenders (his defensive RAPTOR of +2.6 is 26th in the league out of 250 qualifying players). If you haven't yet, check out this article I wrote about him earlier in the season. The steal of the draft warrants a raised grade.
Original Grade: B+
New Grade: A
Oklahoma City Thunder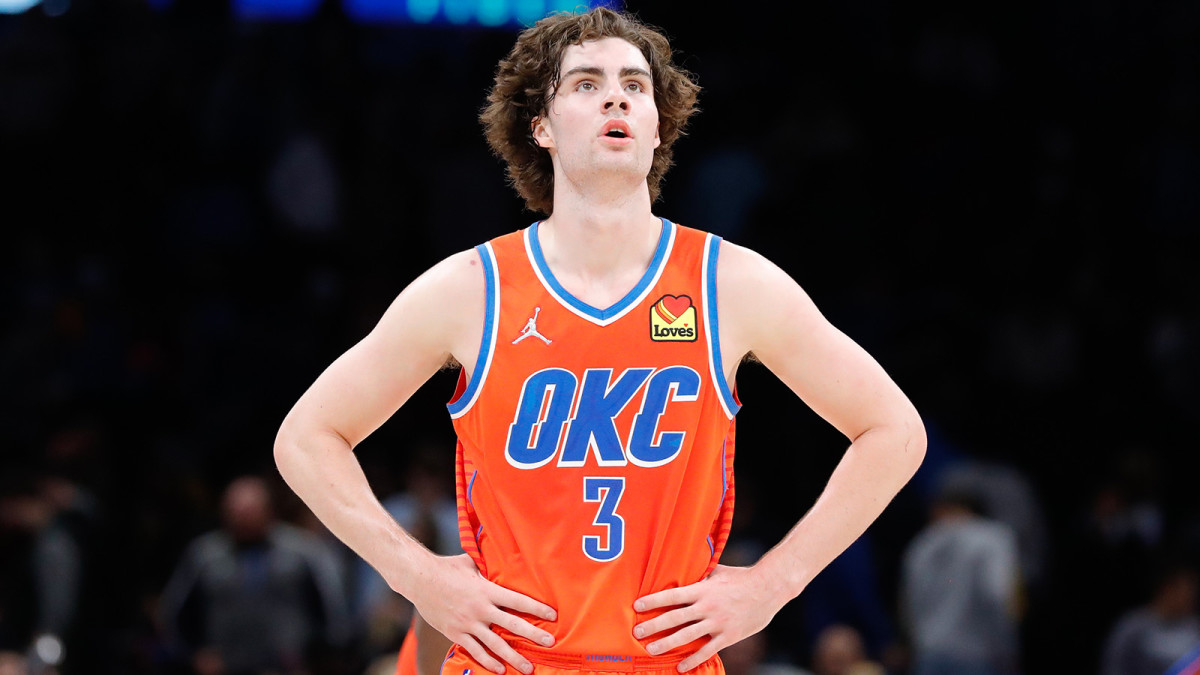 Draftees: Josh Giddey (6th), Tre Mann (18th), Jeremiah Robinson-Earl (32nd), Aaron Wiggins (55th)
Scoring isn't Josh Giddey's strong suit, but he affects the game in many other ways. He's got a knack for throwing dimes, and he rebounds well too. He's a clear All-Rookie guy, and I can tell why the Thunder picked him so high.
Tre Mann has displayed his high-level shot-creating ability. JRE has started in 19 games and has provided value as a stretch four and a rebounder. He's got an All-Rookie case. 55th overall pick Aaron Wiggins has played some solid rotational minutes, which can't be said for many guys picked that late.
Original Grade: A-
New Grade: A
Orlando Magic
Draftees: Jalen Suggs (5th), Franz Wagner (8th)
In many people's opinion (not mine), Jalen Suggs was supposed to be a franchise-altering point guard from the get-go. He hasn't been. His shooting percentages are simply terrible (34% from the field on 12 attempts per game). I'm not going to overreact over his first 21 games though. He can definitely still become a good starting point guard one day.
Franz Wagner, however, has been awesome. He was projected to be a high-end role player/glue guy. Although that's technically what he is right now, his production suggests he'll be much more when he hits his prime. He's averaging 14 points per game, shooting the ball well (36% from three) and throwing down some vicious dunks. Stupendous pick from Orlando's front office.
Original Grade: A-
New Grade: A
Philadelphia 76ers
Draftees: Jaden Springer (28th), Charles Bassey (53rd)
Jaden Springer has played a whopping 2 minutes this season. I'm not sure why, because without Ben Simmons playing the 76ers don't have a true point guard (Maxey is a two in a one's body). Jaden isn't necessarily one either, but I think he deserves a chance to play some more.
Charles Bassey has been solid, averaging 4 points (67% shooting), 3 rebounds, and a block in just 9 minutes per game.
Original Grade: B
New Grade: C+
Portland Trail Blazers
Draftee: Greg Brown III (43rd)
In the limited playing time he's gotten this season (4.6 MPG across 11 games), Greg has showcased the ridiculous athleticism that gives him so much upside. He's definitely raw, and it will be a few seasons before we get to fully evaluate him.
Original Grade: A-
New Grade: B+
Sacramento Kings
Draftees: Davion Mitchell (9th), Neemias Queta (39th)
Davion "Off-Night" Mitchell's lockdown defense has translated to the league, but he's also had a lot of off-nights on offense. His inconsistencies show that he isn't as NBA ready as we thought, which will result in Sacramento's grade dropping.
When he got his first NBA action the other night, Neemias Queta swatted two shots in his very first defensive possession. That's what he does best.
Original Grade: C+
New Grade: C
San Antonio Spurs
Draftees: Josh Primo (12th), Joe Wieskamp (41st)
He's spent a lot of time in the G-League this season, but Josh Primo has played well when he's been with the Spurs. He's made 54% of his total field goals and half of his threes, and he had an insane 3 steal and 4 block performance that only Dwight Howard accomplished at 18 years old. I think Josh is going to be really solid one day.
Original Grade/New Grade: B
Toronto Raptors
Draftees: Scottie Barnes (4th), Dalano Banton (46th), David Johnson (47th)
Scottie Barnes was one of the most controversial picks on draft night. People were clowning the Raptors for selecting him over Jalen Suggs. All that hate is gone now, because Scottie is a stud. Through his first 27 games, he's made a legit ROTY case, averaging 16 PPG, 8 RPG, 3 APG, 1 SPG, and 1 BPG while shooting 49% from the field. He's also shooting 36% from deep, which is really solid for a guy who was not a good shooter in college. Scottie Barnes is clearly one of the best rookies in this class.
Dalano Banton is pretty raw, but he's a 6'9" player with some guard skills who has played some solid rotational minutes for Toronto this season.
Original Grade: B+
New Grade: A
Utah Jazz
Draftee: Jared Butler (40th)
Despite being one of the more NBA-ready rookies (in my opinion), Jared Butler has been limited to 4.3 minutes per game across 17 games. I guess Utah's coaching staff doesn't think he's as good as I think he is.
Original Grade: A-
New Grade: B
Washington Wizards
Draftees: Corey Kispert (15th), Isaiah Todd (31st)
A three-point shot is one of the most translatable skills from college to the league, but Kispert has been a massive disappointment from deep. He's shooting a measly 26% from long-range, which is way down from the 44% he shot in his senior year at Gonzaga.
Isaiah Todd has played well in the G-League, but he's another guy who's received very little NBA tick so far.
Original Grade: B
New Grade: C+
So, those are my updated grades for the 2021 NBA draft! Do you agree? Let me know! Thanks for reading, and see you next time!